Day Forty-Five Of Swords Of Iron
There is heavy fighting around the Indonesian Hospital in northern Gaza.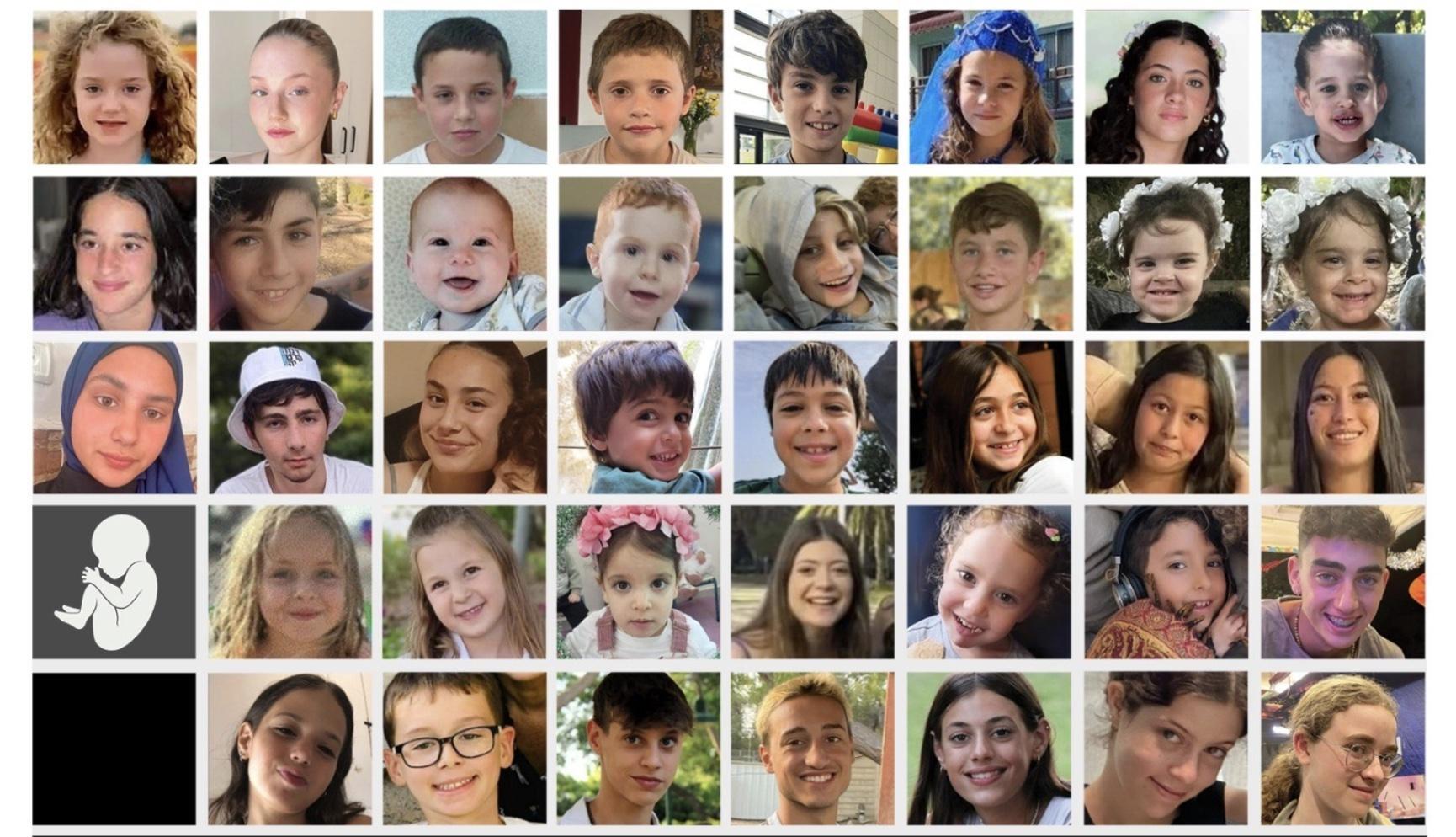 Children held hostage by Hamas terrorists.
4:24 pm
Bahrain's Crown Prince and Prime Minister Salman bin Hamad Al Khalifa became the first Arab leader to publicly condemn Hamas's October 7 onslaught during a Middle East security and defense summit over the weekend.
During a keynote address at the annual International Institute for Strategic Studies's annual Manama Dialogue security summit on Nov. 17, the Bahraini leader said that he "unequivocally" condemns Hamas after thousands of terrorists poured into Israel through the Gaza border fence, slaughtered at least 1,200 people, most of them civilians, and took some 240 hostages.
Israel's "Iron Beam" Laser-Defense System has reportedly conducted its First Successful Interception of a Rocket launched from the Gaza Strip.Iron Beam is a directed-energy weapon air defense system, created by Israel's Rafael Advanced Defense Systems.[ Designed to destroy artillery, mortar rounds, and short-range rockets, it has a range of up to 7 km (4.3 mi). It complements the Iron Dome system which intercepts missiles coming from a greater distance. Iron Beam can also intercept drones. It will form part of Israel's integrated missile defense system, which includes Arrow 2, Arrow 3, David's Sling and Iron Dome.
4:15 pm
A Wake Forest University professor has resigned after posting content on social media that defended Hamas' violent terror attack against civilian music festival attendees in the early morning hours of October 7. 
Dr. Laura Mullen, Kenan Chair of the Humanities, English & Creative Writing at Wake Forest University, "has resigned for personal reasons" and will continue teaching through the end of the semester, the university told The Wake Report. Mullen came under fire after she posted on X that she "could be tempted to shoot up your dance party," signaling she empathized with the Hamas terrorists that killed hundreds at the festival during the October 7 mass attack in southern Israel.
3:56 pm
when asked about President Biden's threat to revoke visas of certain Israeli settlers in the West Bank, US State Department spokesman Matthew Miller said the Biden administration is considering additional steps to address a major increase in settler violence since the outbreak of the Israel-Hamas war. If the Israeli government starts holding violent settlers accountable, Miller said: "that's certainly something we would welcome… and taking into account [as we consider] what kind of [further] actions we might take."
The IDF reported a number of "friendly fire" incidents during the current conflict, some of which resulted in deaths of Israeli troops. Thousands of IDF infantry, tanks, and other troops are currently operating in Gaza City's neighborhoods. Sixty-six soldiers have been killed in Gaza since the start of the ground incursion on October 27.
The Association for Civil Rights in Israel urged the IDF's Central Command  to remove the curfew it has imposed exclusively on Palestinians — and not on settlers — in the city of Hebron since the outbreak of the Israel-Hamas war. Palestinians in the H2 area of the West Bank city are only allowed to leave their homes on Sundays, Tuesdays, and Thursdays for one hour in the morning and one hour in the evening, for a total of six hours per week. "Individuals from the Jewish settlements [in H2] take advantage of the forced absence of Palestinians from public spaces to seize control, damage property, break into and harm homes and shops," ACRI stated. "Palestinian activities in the city are completely suspended. There is no trade or education, residents cannot go to work, receive medical treatment or visit family members. Even obtaining food, medicine, or water has become an almost impossible task," the statement adds.
US energy envoy Amos Hochstein is briefing Israeli officials in Tel Aviv about his recent talks in Lebanon, which aimed to prevent a second front in the Israel-Hamas war, according to White House National Security Council spokesperson John Kirby. Hochstein seeks for Lebanon to rein in Hezbollah so that the terror group ceases its attacks on Israel. However, the terrorist group escalated its attacks today. "We don't want to see this war escalate. We don't want to see it widen. We certainly don't believe it's in anybody's interest," Kirby says.
Kirby also slammed anti-Israel activists who have accused Israel of genocide in Gaza. While affirming their First Amendment rights, he said: "but this word 'genocide' getting thrown around in a pretty inappropriate way by lots of different folks." Kirby said, "Israel is not trying to wipe the Palestinian people off the map. Israel is not trying to wipe Gaza off the map. Israel is trying to defend itself against a genocidal terrorist threat. So if we're going to start using that word, Fine. Let's use it appropriately," and added, "Yes, there are too many civilian casualties in Gaza. Yes, we continue to urge the Israelis to be as careful and cautious as possible."
Kirby said, "We're closer now to a hostage deal than we've been before," with regard to a deal to  the release of some 240 hostages from Hamas in Gaza. He didn't provide details. For his part, President Biden said earlier today that a deal is closer than had been possible previously as well.
When Kirby was asked what President Biden meant when he said he supports a "revitalized" Palestinian Authority returning to govern Gaza, he answered: "What it looks like is going to depend on the Palestinian people. but what he's referring to there is a Palestinian Authority that has the credibility, has the legitimacy, has the authority, has the support of all Palestinians, so that they can effectively help with post conflict governance particularly in Gaza."
Israeli troops of the 188th Armored Brigade located a Hamas rocket-making lab, weapons, and a tunnel entrance inside a mosque in Gaza City's Zeitoun neighborhood. "I want you to understand: A mosque, in the Zeitoun area, was being used as a lab for making weapons," IDF Spokesman Rear Adm. Daniel Hagari said at an evening press conference. "Troops enter the mosque, carry out scans, and make sure there are no traps. They head inside this mosque and find a tunnel shaft… and a staircase," he said. The troops found in the basement, Hagari said, "a workshop for making rockets." He added, "Terrorists manufacturing rockets in a mosque. Using Islam and the symbols of Islam to create terror." Zeitoun is a Hamas stronghold in the south of Gaza City.
The Knesset's Ethics Committee  announced sanctions against Likud Knesset Member Nissim Vaturi, who accused Arab Israeli Knesset Members Aida Touma-Sliman and Iman Khatib-Yasin of supporting Hamas. Vaturi will be banned from speaking in the next 10 Knesset sessions. Also last week, Vaturi was temporarily banned from Facebook for calling for Gaza to be burned down.
3:50 pm
Large scale rocket barrages struck Tel Aviv and other Israeli cities overnight. The Iron Dome defense system successfully destroyed numerous incoming rockets.
11:39 am
A member of Israeli PM Netanyahu's cabinet, Intelligence Minister Gila Gamliel, wrotein an op-ed in the Jerusalem Post newspaper on Nov. 19 that "voluntary resettlement" was the best way to provide Palestinians from Gaza with a better life. "It could be a win-win solution," she wrote. Gamliel did not say what her plan would mean for those who chose to remain in Gaza, nor what countries would be open to take them. She did not specify what Israel's role would be in a future Gaza.
The head of the African Union says Israel's response to Hamas's massacre last month was "inexcusable," warning that civilian casualties would fuel further "extremism." "The acts (of Hamas) are reprehensible… but the response is inexcusable," AU chairman Azali Assoumani told the media in Berlin. "Imagine a child who has seen his mother, who has seen his father killed… it creates extremism," he said.
Israeli police two weeks ago arrested a pair of Hamas terrorists who had been hiding in the southern Bedouin town of Rahat after infiltrating into Israel during the October 7 assault. They were transferred to the Shin Bet security service for questioning.
According to The Times of Israel, the IDF has interrogated 300+ Hamas operatives and announced that other Gazans are providing intelligence on Hamas.
7:20 am
Rocket sirens wailed in several cities and towns in southern Israel. This was the first time in 24 hours that long-range rockets have been fired from Gaza. The early barrage struck Ashkelon.
The residents of Haifa were advised to boil all water for cooking, food, medication, and toothbrushing until further notice. No need to do so for showering, bathing, and sanitation. Local water authority to fix the issue and conduct further testing.
Rocket sirens in northern town Shlomi. This came shortly after a projectile hit an IDF base at Biranit, which caused damage but no human injuries.
Israeli Prime Minister Benjamin Netanyahu and Finance Minister Bezalel Smotrich agreed to extend the tenure of Bank of Israel Governor Amir Yaron for another five-year term, pending government approval. Yaron's term was due to end on Dec. 23 and he was expected to decide whether to continue in the position after the Jewish High Holidays which ended on the day of Hamas's attack.
According to Egyptian media,twenty-nine premature babies arrived in Egypt after their evacuation from the Al-Shifa hospital complex, which the IDF has captured and where an underground Hamas headquarters is believed to be. They were evacuated  on Nov. 19 while the IDF continues probing for the terrorists' operations center in what the World Health Organization has described as a "death zone." An initial 31 babies were reported evacuated from Al-Shifa to another Gaza clinic. It was not immediately clear why only 29 arrived in Egypt.
The Technion – Israel Institute of Technology issued a general invitation to students, researchers, and teachers around the world to continue their work in Israel. "Following the surge of antisemitism and anti-Israel rhetoric around the world, the Technion invites undergraduate and graduate students and academic faculty residing abroad to come to our campuses in Haifa to carry out their research, teaching and learning," the university stated. This extends to faculty, post-docs, current and potential students of all levels abroad, subject  to an application and approval process. Technion President Prof. Uri Sivan stated that "many Jewish and Israeli students and researchers currently face physical and verbal threats that cause them to think twice about everything they do and prevent them from participating in academic activities in those institutions… we have announced a program for the rapid integration of students and faculty members from around the world looking for an academic refuge during these difficult times." 
Family members of hostages at the Knesset begged National Security Minister Itamar Ben Gvir not to advance legislation for the death penalty for terrorists, fearing it could have severe repercussions for their captive relatives. Knesset member Almog Cohen shouted at them and said that they have no "mandate" over pain.
"The families of the abductees cry out their pain and the pain of an entire country. There is no limit to the shamelessness of the coalition members who preach morality to families," opposition leader Yair Lapid tweeted. "What Almog Cohen did today will be remembered forever. He should be ashamed of himself," Lapid wrote.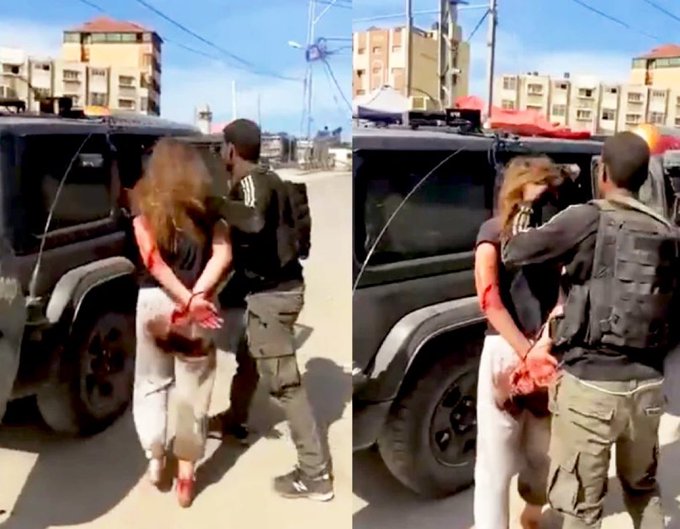 Naama Levy, 19, was raped and abducted by Hamas terrorists on October 7.
See the plea from Ayelet Levy-Shahar for daughter Naama's life.
In a speech on the evening of Nov. 19, Israeli PM Netanyahu  slammed the Palestinian Authority for falsely accusing Israel of carrying out the attack at the outdoor rave party in southern Israel on Oct 7, resulting in the rape, abduction, and murder of dozens. In a video, Netanyahu responded harshly to the accusation, calling the statement "utterly preposterous" and a "complete reversal of truth." He said that PA President Mahmoud Abbas, "who in the past has denied the existence of the Holocaust, today is denying the existence of the Hamas massacre and that's unacceptable."
In response, PA presidential spokesman Nabil Abu Rudeineh, Ramallah says that "the priority now […] is not to engage in spats and trivial issues that do not deserve a response," adding that "Netanyahu's statements since the beginning of the aggression prove that this government seeks to perpetuate its occupation of all the Palestinian territories."
"President Abbas's efforts are currently focused on stopping the barbaric Israeli aggression against the Palestinian people and their holy places in Gaza, the West Bank, and Jerusalem," Abu Rudeineh adds. The PA also accused Israel of fabricating media material to justify its offensive against the Gaza Strip.
On Nov. 19, the PA Foreign Ministry falsely claimed that the IDF was responsible for the death of all the partygoers near Kibbutz Re'im during Hamas's October 7 onslaught. The claim originated in a detail from a Haaretz newspaper story published on Nov. 18, taken out of context and widely distributed in Arab media. a, distorted and taken out of context.
Following the Israeli backlash, the PA Foreign Ministry deleted its statement from its social media accounts on Sunday night, but Hebrew media said it was sent as a document to diplomats and to the United Nations.
7:15 am
Israel released video footage of Hamas's labyrinth of tunnels beneath Gaza.
The Guardian reports the following summary:
There are reports of heavy fighting around the Indonesian hospital in the north of the Gaza Strip. Marwan Abdallah, a medical worker there, said Israeli tanks were visible from the windows. "You can see them moving around and firing," he told AP. "Women and children are terrified. There are constant sounds of explosions and gunfire". Health ministry officials in Gaza say 12 people have been killed, including doctors and patients. The claims have not been independently verified.
Israel's Haaretz says it has been told by a source "involved in the negotiations with Hamas" that the organisation is considering increasing the number of hostages it is willing to release. The newspaper says the source told it that talks were in continuation and that more patience was needed.
Israel's military has released security camera footage it says shows hostages being brought into al-Shifa hospital in Gaza City on 7 October after being kidnapped during Hamas's attacks on southern Israel. The first clip shows a man in shorts and a pale blue shirt being dragged through what looks like an entrance hall by five men. In the second, an injured man in underwear is wheeled in on a gurney by seven men. It has not been possible to verify the footage independently.
Thirty-one premature babies evacuated from al-Shifa hospital in Gaza City on Sunday. Health officials say they are in "extremely critical condition". The newborns had dehydration, hypothermia and sepsis in some cases, said Mohamed Zaqout, the director of Gaza hospitals. The babies are receiving urgent care in the southern Gaza city of Rafah, and preparations are in hand for them to be taken to Egypt.
Arab and Muslim ministers called on Monday for an immediate ceasefire in Gaza, as their delegation visited Beijing on the first leg of a tour to push for an end to hostilities and to allow humanitarian aid into the territory. The delegation, which is due to meet officials representing the permanent members of the UN security council, is also piling pressure on the west to reject Israel's justification of its actions against Palestinians as self-defence.
Iran on Monday dismissed as "invalid" Israel's accusations that Yemen's Houthi rebels were acting on Tehran's guidance, after the rebels said they had seized what they called an Israeli cargo ship in the Red Sea. Israel said the vessel was a British-owned and Japanese-operated cargo ship and described the incident as an "Iranian act of terrorism" with consequences for international maritime security.
The Israeli military has issued a statement to say there have been further exchanges of fire across the UN-drawn blue line that marks the border between Israel and Lebanon.
More than 100 evacuees from Gaza are due to arrive in Turkey on Monday, including dozens of people who will receive medical treatment there, Turkey's health minister and a foreign ministry source have told Reuters.
Australia's foreign minister, Penny Wong, has posted to social media to say 31 people, including Australian citizens, left Gaza via the Rafah crossing earlier today.
November 20, 2023
Topic tags:
Israel Swords of Iron Islam Hamas