Day Thirty-Eight Of Swords Of Iron
UK prime minister fires controversial pro-Israel Home Secretary Suella Braverman.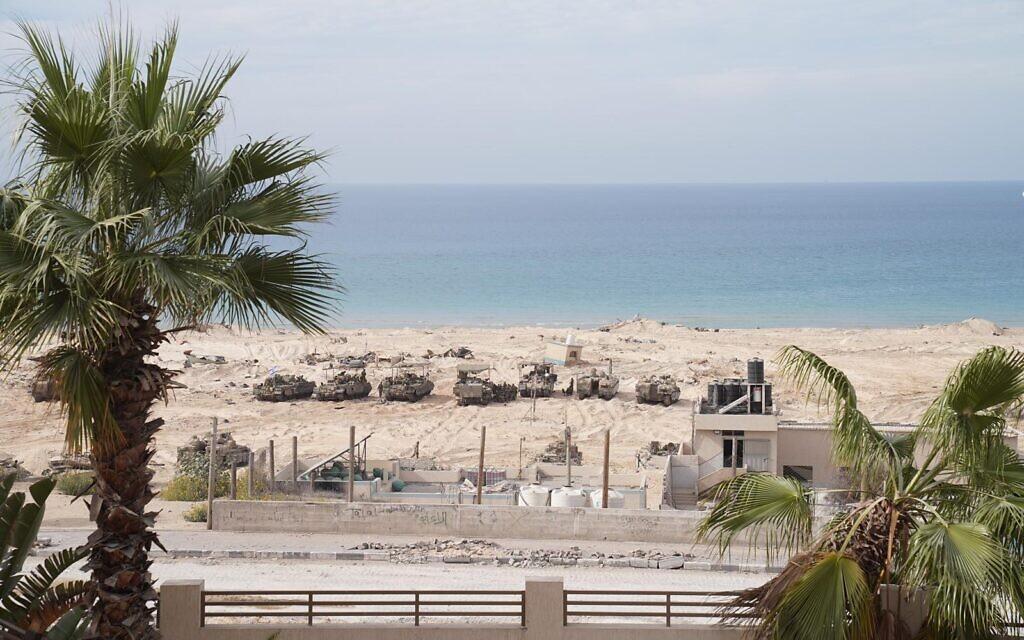 7:07 pm
The Islamic Resistance in Iraq , which has launched close to 70 attacks on U.S. Forces in Iraq and Syria over the last month, just announced the Deployment of a New Short-Range Smart Missile called the "Sarim." It appears to be similar to the Iranian "Fateh-110" Ballistic Missile which has a range of 300 kilometres (186 miles) and a warhead of up to 500 kilograms (1100 pounds).
7:04 pm
Attorneys for an organization called Defense for Children International Palestine, as well as Ahmed Abu Rokbeh, Laila ElHaddad, Waeil Elbhassi, Basim Elkarra, Mohammed Ahmed Abu Rokbeh, Mohammad Herzallah, and Dr. Omar El Najjar, filed a complaint in the US District Court for the Northern District of California charging that Israel is committing acts of genocide in Palestine and that the United States has failure "to exercise its influence over Israel to prevent genocide and its complicity in genocide."
The plaintiffs call on President Biden, Secretary of State Blinken, and Secretary of Defense Austin as defendants to "take all measures within their power to exert influence over Israel to end its bombing of the Palestinian people of Gaza, resulting in mass killing and serious injury...to lift the siege on Gaza...prevent the 'evacuation' or forcible transfer and expulsion of Palestinians from Gaza and ensure freedom of movement." The suit calls on the defendants to stop providing military assistance and financing to Israel, the delivery of weapons, or military euipment and personnel which advance "Israel's commission of genocidal acts." It also enjoins the defendants "from obstructing attempts by the international community, including at the United Nations, to implement a ceasefire in Gaza and lift the siege on Gaza."
5:00 pm
IDF showed footage taken underneath Rantisi hospital in Gaza. Israeli special ops combatants found access at the surface leading down 20 meters to a bullet-proof, blast-proof door that led to a tunnel. The tunnel in turn led to rooms where the IDF found baby bottles and motorbike that led them to conclude that hostages held by Hamas had been kept there.
3:45 pm
Jewish-owned businesses in Montreal, Canada, are being targeted and vandalized with antisemitic material, with the owners too scared to speak out publicly or complain to the police.
Lists of such businesses are being circulated on social media, mostly on TikTok, urging people to boycott restaurants and other establishments that are owned by Jews or that are deemed to be supportive of the Israeli government in its war against Hamas in Gaza. But protesters are not simply boycotting businesses; some are visiting them and vandalizing company property.
2:25 pm
Troops from the IDF's Golani Brigade posed for a photo inside Gaza's parliament building in Gaza City, after capturing the site today.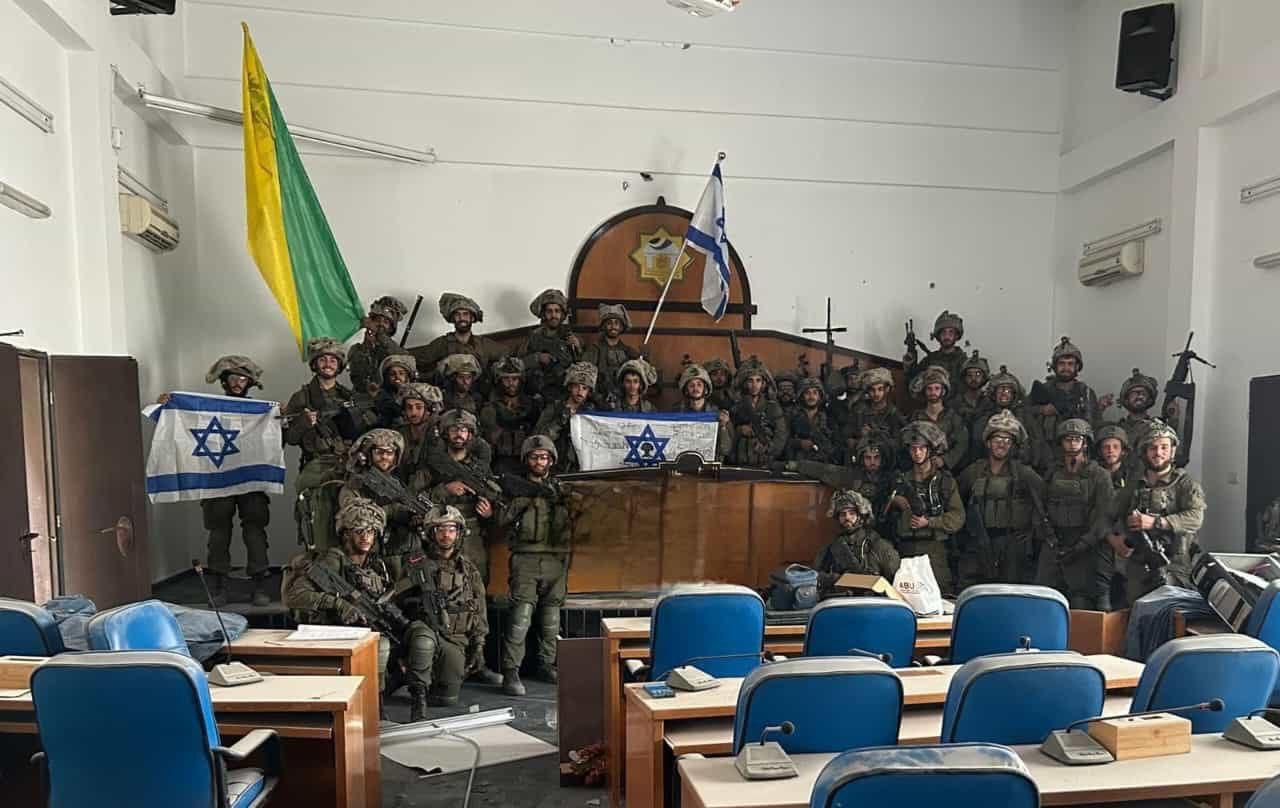 Alina Plahti, 23, was not Jewish according to Orthodox Jewish law, and dropped out of a program she had attended for converting to Judaism, and therefore may not be buried with Jews at the cemetery, Rabbi Yosef Yitzhak Lasri said, according to The Times of Israel. "We share in the family's pain, but there are clear procedures in place: non-Jews are not buried with Jews, as per the decision of the Chief Rabbinate," Lasri said. Oded Forer a member of the Knesset for the Yisrael Beytenu opposition party, said: "I am ashamed for the State of Israel and apologize for her being treated this way." "I apologize in the name of Judaism, which is not represented by what happened here," said Elazar Stern, another opposition lawmaker from the Yesh Atid party. There are various laws regarding burial of non-Jews with Jews. The Rabbinate advocates separation, while other interpretations allow for burial of non-Jews with Jews, especially when they fought together.
IDF Chief of Staff Lt. Gen. Herzi Halevi vowed to restore security to residents of northern Israel, after frequent rocket and missile attacks by Hezbollah and allied Palestinian factions. "We are preparing strongly with action plans for the north. Our mission is to bring security. The security situation will not remain such that the residents of the north do not feel safe to return to their homes," Halevi said. Halevi approved plans of action and instructed the Northern Command to maintain a high level of readiness.
Incoming rocket sirens wailed in central Israel, including Tel Aviv. It marks the first long-range rocket attacks from Gaza Strip since Nov. 11. Sirens also sounded in Ashkelon and other areas of southern Israel. There are no immediate reports of injuries or damage.
Hamas lost control of Gaza
Hamas has 'lost control of Gaza,' says Israeli defense minister Yoav Gallant. "There is no force of Hamas capable of stopping the IDF. The IDF is advancing to every point. The Hamas organization has lost control of Gaza. Terrorists are fleeing south. Civilians are looting Hamas bases. They have no confidence in the government," said Gallant today. After carrying out an assessment of IDF progress, he said Israeli forces are advancing "according to plans and carry out the tasks accurately, lethally." Gallant said the IDF has "intensified" activity against Hamas tunnels in recent days. "We work according to tasks. We don't have a stopwatch. We have goals. We will achieve our goals," Gallant says, in reference to Foreign Minister Eli Cohen's indication earlier that international pressure may force Israel to alter its actions in Gaza.
Journalists in southern Lebanon claim they have been targeted in Israeli strikes. Al Jazeera of Qatar said one of its photographers was lightly wounded. A mayor and Lebanese official media corrobrated the journalists' account of the cross-border incident. The IDF did not immediately comment on the claims, but averred that it responded with artillery toward the sources of missile and rocket attacks on northern Israel. About 12 journalists from various media were on a tour to inspect sites bombed by Israel near the border town of Yarun. 
IDF Unit 669, Israel's elite Air Force helicoptor search and rescue unit has  carried out more than 60 medical evacuations from inside Gaza during ground operations. Unit 669 is made up of rescue specialists, combat medics and doctors, and helicopter pilots. Unit 669 has also carried out 200 other operations since October 7, during the fighting in southern Israel in the first weeks of the war. "From the beginning of the ground operation, the rescue helicopter squadron has evacuated dozens of wounded in complex terrain conditions, under fire, and in extreme situations," says the commander of the 123rd Squadron, which operates Black Hawk choppers for Unit 669, Lt. Col. "Ayin" — who can only be identified by his rank and first initial in Hebrew. "The rescue helicopter array works in close cooperation with Unit 669 and ground forces, which results in life-saving rescues," he says. "The goal is safe and quick rescues, as well as arriving at a medical center as quickly as possible."
Israel's legislature passed a law to allow the defense minister to declare non-Israelis as terrorists. The law amends the existing Counterterrorism Law. Previously, non-Israelis could only be deemed terrorists if a qualified international entity first made the designation. The law also expands the definition of "terror operative" to include financiers who are not formal members of a terror organization. The Knesset also advanced a measure to grant honorary citizenship to foreigners who died while fighting with Israel's security services.
Foreign Minister Eli Cohen downplayed earlier remarks that Israel only has two or three weeks before international pressure over the war against Hamas becomes significant. He tweeted that "as far as we're concerned, there is no [diplomatic] countdown — we won't stop fighting until we eliminate Hamas and return all of the hostages."
Attorney General Gali Baharav-Miara writes to National Security Adviser Tzachi Hanegbi to demand the immediate confiscation of classified documents sent to Prime Minister Benjamin Netanyahu's office, after the ongoing war began, in violation of protocol. This comes after the PM's chief of staff, Tzachi Braverman, had recently asked officials for classified protocols of security cabinet meetings held by the current and previous governments. The Times of Israel opined that this is "likely to serve as the basis for Netanyahu's post-war battle over public opinion."
 
1:30 pm
A planned second phase of Hamas's brutal Oct. 7 assault on southern Israel involved joining forces with terrorists in Judea and Samaria, The Washington Post reported on Nov. 12, citing Western and Middle Eastern security officials briefed on evidence obtained by Israel. Some of the Hamas terrorists that participated in the attack carried enough food, ammunition and equipment for several days, the officials said, and had instructions to continue deeper into the Jewish state once the initial massacre succeeded, potentially with the goal of attacking larger population centers.
 
12:40 pm
On Nov. 12, former governor of New York, Andrew Cuomo called on fellow Democrat and current Gov.Kathy Hochul to call out the National Guard to protect Jews faced with a rise in anti-Semitism. "I stand with the Jewish community during these difficult times: an attack on any New Yorker is an attack on every New Yorker," said Cuomo. "It's time to deploy the National Guard to Jewish centers and places of worship and send a clear message: Hate has no place in New York and anyone who trafficks in it will be held responsible to the fullest extent of the law. We need to speak with one voice and say 'We are with you. You target a Jew, you target me too,'" he said.
 
12:36 pm
In 2015, Amnesty International reported on human rights abuses committed by Hamas on the residents of Gaza. It said inter alia:
"'The Hamas leadership repeatedly calls for rights and justice for Palestinians in Gaza and elsewhere. But they do not always act in a manner that reflects respect for rights, justice and the rule of law. By failing to halt such grave violations, the Hamas authorities are dragging the name of justice through the mud and condoning these appalling crimes,'said Philip Luther. As well as carrying out unlawful killings, others abducted by Hamas were subjected to torture, including severe beatings with truncheons, gun butts, hoses and wire or held in stress positions. Some were interrogated and tortured or otherwise ill-treated in a disused outpatient's clinic within the grounds of Gaza City's main al-Shifa hospital. At least three people arrested during the conflict accused of "collaboration" died in custody."
10:50 am
IDF troops continue to search buildings in the north of the Gaza Strip and locate many weapons - the 401st Brigade's combat team raided the outskirts of the 'Shatti' camp and found weapons, combat equipment and operational plans of the Hamas terrorist organization. Brigade 551 troops located weapons in the home of a senior member of the Palestinian Islamic Jihad organization.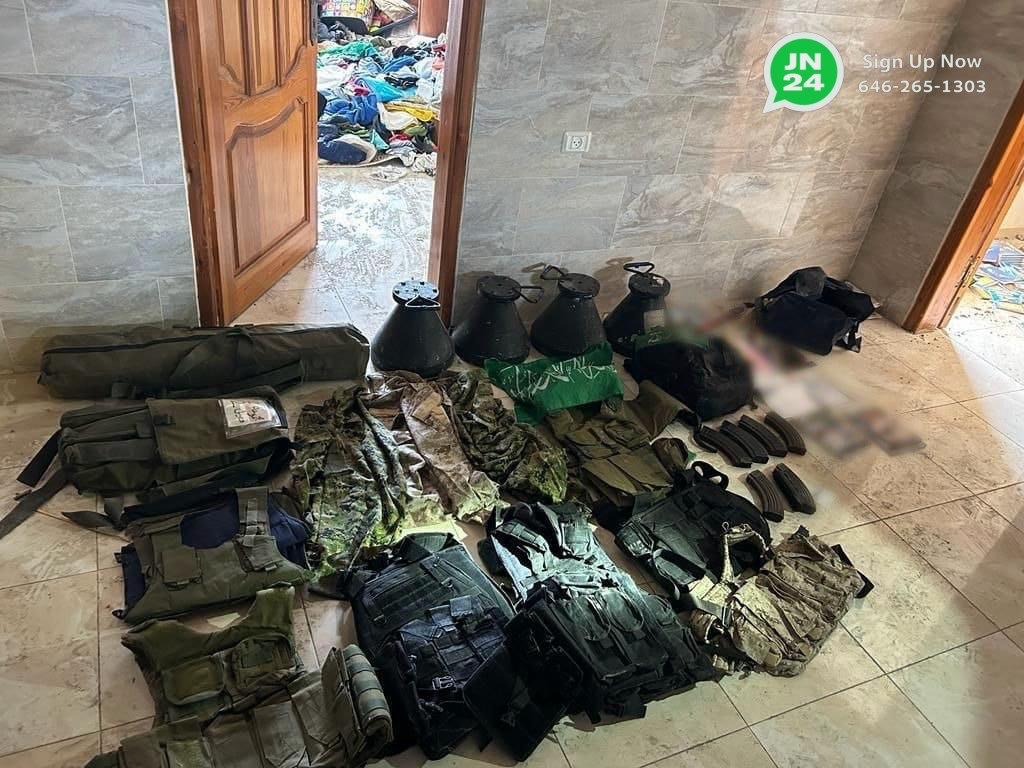 10:07 am
"There are those who think they can expand their attacks against our troops and against civilians. This is playing with fire," Israeli Prime Minister Benjamin Netanyahu said without mentioning Hezbollah explicitly. He said, "Fire will be met with much stronger fire. They must not try us, because we have displayed only a little part of our power. We will harm those who harm us." He was visiting the IDF's Desert Reconnaissance Battalion, also known as Unit 585 or Bedouin Battalion. Congratulating the unit, he said: "I salute you. Our partnership is the future for all of us against those savages...We are going to win. There are no pauses. This isn't an operation, this isn't another round of fighting. We are going here for total victory. We will restore security in the north and in the south… Hamas will be eliminated."
The chief of UNRWA -- the UN agency for Palestinian refugees -- claimed that its operations in Gaza will end within two days because of fuel shortages. "The humanitarian operation in Gaza will grind to a halt in the next 48 hours as no fuel is allowed to enter Gaza," UNRWA's Gaza chief Thomas White tweetd.
Israeli police in Tel Aviv thwarted a stabbing attack on Nov. 2, arresting two 14-year-old boys carrying knives. They are students from Umm al-Fahm who took a bus to Tel Aviv and planned to carry out the attack against IDF soldiers near the city's Savidor train station. After witnessing suspicious behavior on the boys' part, police approached and searched them, finding knives. They were taken in for questioning in collaboration with the Shin Bet security agency. There was a gag order until today on the case when the pair, still under detention, were arraigned in court on suspicion of attempted murder of a terrorist nature.
Israeli Labor party leader Merav Michaeli claims the ruling coalition is advancing its controversial judicial overhaul agenda under the cover of wartime. This cam after Justice Minister Yariv Levin sought to promote two advocates of judicial reform as judges in exchange for accepting the Supreme Court's candidate for the court's next president. Michaeli called on Minister Benny Gantz, whojoined forced with Netanyahu to form an emergency cabinet, to  "stand by their original agreement and deal only with Israel's security."
Michaeli criticized Netanyahu for not taking responsibility for the failures that preceded the October 7 massacres, when Netanyahu argued that then-US president Franklin Roosevelt was not asked the same question in the aftermath of Pearl Harbor in 1941. "There's no evidence that Roosevelt brought suitcases of cash to Yamamoto and the Nazis before the war," Michaeli said, in a reference to Netanyahu's practice of allowing cash into the Hamas controlled Gaza Strip, in hopes of holding Hamas in check through economic stability. Y
The IDF released footage of the Israeli Navy's underwater commando unit — known by its Hebrew acronym YALTAM — recovering weapons left behind by Hamas terrorists on the bottom of the sea from the October 7 onslaught and other attacks since. On Oct. 7, Hamas's naval forced attempted to infiltrate Israel from the sea. The Israeli navy, however, killed dozens of them, largely foiling the seaborne attack. There have been other attempts by the terror group to send divers to infiltrate into Israel in recent weeks. YALTAM scuba forces scanned the seabed in recent days, finding firearms, explosive devices, ammunition and rubber dinghies that were sunk by Navy fire. The weapons were brought to the coast, where they were destroyed by the Combat Engineering Corps' elite Yahalom unit, the IDF says.
Netanyahu has refused to join a list of senior Israeli officials who have publicly taken responsibility for failures leading up to October 7, and on Sunday reiterated to CNN that such questions should be put off until a post-war inquest.
"Prime Minister Netanyahu needs to stop trying to deflect responsibility from himself. If he wants us to not deal now with the question of who is to blame, let him not sit on CNN and compare himself to [American wartime President Franklin] Roosevelt," opposition leader and former prime minister Yair Lapid said. "Roosevelt did not deliver suitcases of money to [Japanese] General Yamamoto and did not strengthen the Japanese for 13 years through erroneous and failed policies that led to disaster," Lapid continued, alongside photos of some of the 239 hostages held by Hamas in Gaza.
Netanyahu had compared himself to Roosevelt after Pearl Harbor when asked in an interview if he would resign in the wake of the failure to stop the assault.
Referring to his own party members, Lapid says "the people sitting around the table here are doing the government's job. They went to funerals and to shivas [seven-day mourning periods], and they were with the evacuees and the families of the abductees, and they helped deal with bureaucratic problems and they defended Israel in the international media."
He accuses the government, in contrast, of not freeing up funds that could be used by the war effort. Lapid called out Finance Minister Bezalel Smotrich, in particular, for advancing "sectoral" interests. "In the middle of the war, he is transferring hundreds of millions [of shekels] to his voters in Judea and Samaria," he said, using the Biblical term for the West Bank. In addition, Lapid says that Smotrich is readying to transfer NIS 1.3 billion to ultra-Orthodox institutions that fail to teach core curriculum studies.
IDF said Israeli troops killed 21 terrorists who opened fire from Gaza City hospital. Images released by the IDF showed Hamas terrorists with rocket-propelled grenade launchers and an anti-tank missile at the entrance of the Al Quds hospital in Gaza. According to the IDF, the terrorists opened fire at the Israeli 188th Armored Brigade with light arms and RPGs, while being "embedded within a group of civilians at the entrance of the hospital." Israeli troops returned fire. No Israeli troops were killed.
An IDF spokesperson stated: "An RPG and an anti-tank missile were fired at an IDF force from the entrance to the Al-Quds Hospital. The shooting was carried out by a terrorist squad that was mixed into a group of civilians at the entrance to the hospital. The forces identified among the civilians a squad with two RPG launchers.  The IDF fired at the terrorists.  During the exchange of fire, civilians were seen fleeing the hospital and other terrorists who came out of buildings mixed into them and joined the attack. After an RPG shooting by the terrorists, they went back to hiding in the hospital."
Amid the exchange of fire, the IDF says civilians were seen leaving the hospital, and other operatives came out of adjacent buildings and hid among them to attack the Israeli forces. After firing RPGs at troops, the IDF says the operatives fled back into the hospital. "This incident is another example of Hamas's continued abuse of civilian structures, including hospitals, to carry out attacks," the IDF adds in a statement.
The IDF made strikes on a number of Hezbollah sites in southern Lebanon, in response to rocket, missile and mortar attacks on northern Israel today. These included Hezbollah infrastructure, compounds with weapons depots, and a command center, the IDF said.
The Israel Electric Corporation says that one of its workers, Shalom Aboudi, 56, was killed during Hezbollah's raid on northern Israel on Nov. 12. The IDF had previously reported that 14 civilians were wounded, including one critically, in an anti-tank guided missile attack. The Hezbollah missile struck a number of vehicles near the northern community of Dovev, close to the border. Some of the victims were electric company employees who had arrived to repair power lines damaged by previous fire from Lebanon.
Israeli President Isaac Herzog's wife revealed that one of their sons is among the hundreds of thousands of Israelis called up and fighting inside Gaza. "We have not had any contact with him for some time, but we have hope," Michal Herzog tells the Kan public broadcaster. She did not say which of the couple's three sons was in Gaza.
 
9:30 am
Scoop: Internal State Dept. memo blasts Biden, U.S. policy on Israel-Hamas war: An internal State Department dissent memo accuses President Biden of "spreading misinformation" on the Israel-Hamas war and alleges that Israel is committing "war crimes" in Gaza, according to a copy of the memo obtained by Axios.
Why it matters: The scathing five-page memo — organized by a junior diplomat who has suggested on social media that Biden's support of Israel has made him "complicit in genocide" in Gaza — offers a rare look at the raw divisions within the Biden administration over the Israel-Hamas war.
The memo — signed by 100 State Department and USAID employees — urges senior U.S. officials to reassess their policy toward Israel and demand a ceasefire in Gaza, where more than 11,000 Palestinians have been killed in the war, according to Gaza's Hamas-controlled health ministry.
7:17am
Video has emerged of a school walkout for Palestine where students shouted antisemitic abuse and showed Islamist indoctrination on Nov. 10. Most of the girls were veiled and some even wore niqabs (full face coverings). The direct action was reportedly organized by taxpayer-funded Brooklyn parent advisory board, which is headed by Black Lives Matter activist Tajh Sutton. 
The Palestinian Authority demanded that the world condemn Israeli National Security Minister Itamar Ben Gvir, who on Nov. 12 reportedly called for treating certain Gazan civilians as combatants. Referring to him as a "fascist," the PA stated: "We demand that all countries condemn the justifications by fascist Ben Gvir and his followers for killing Palestinian civilians." 
According to Israeli media, Ben Gvir demanded in a cabinet meeting that the distinction between combatants and non-combatants not be applied in the case of civilians who joined Hamas terrorists and looted Israeli communities on October 7, as well as Palestinians who handed out sweets to celebrate the murderous assault. Israeli PM Netanyahu and Justice Minister Levin both rejected the proposal. 
The PA also accused Israel of carrying out "genocide" in Gaza through a deception campaign aimed at holding East Jerusalem and the West Bank. 
The PA statement called on the world to protect the "defenseless" Palestinian people, and on the UN to stop the war in Gaza and the annexation of the West Bank, "in order to preserve what is left of the credibility of its capacity to perform its tasks."
7:00 am
A Turkish ship bearing a cargo for field hospitals arrived at El Arish near the Rafah border crossing from Egypt to Gaza. It is first such aid vessel to arrive in Egypt since war broke out on October 7. According to the Turkish government, the ship was carrying "materials, generators, ambulances to establish eight field hospitals." Turkey had requested Egypt's approval to build the field hospitals in El Arish, which is about 40 kilometers (25 miles) from the Rafah border — the only crossing to Gaza not controlled by Israel. "We received the green light from Egyptian authorities. We will set up these hospitals in the areas shown by the Egyptian authorities," a Turkish official reportedly said.
Ariel Danino, a prominent activist among Israel Jews living in the West Bank, appealed to Israel's Supreme Court to demand that it annul or grant him a conditional release from a four-month administrative detention imposed by the government. He was arrested on Oct 28 at Kumi Or, near the Yitzhar settlement in the northern West Bank, by Israel's Border Police forces and Shin Bet security agents, reportedly on suspicion of having carried out violent acts, according to the Kan public broadcaster. He is being held without charge. "It would have been appropriate that if the respondents [the defense minister and the Shin Bet internal security service] thought the appellant was acting in a dangerous manner to warn him or limit his movement, before signing this [administrative detention] order," says a statement put out by the Honenu legal aid group, which provides legal services to "right-wing activists and organizations", according to the Times of Israel. Danino's lawyers claim that he was arrested because of his criticism of Israeli security services on websites and online forums, and his frequent presence at anti-government protests.
On October 24, Danino tweeted his objections to what he deemed offensive comments made by Palestinians in a Telegram chat group for residents of the Beita Palestinian village in the Northern West Bank, close to his home in Kumi Ori. "I'm waiting to hear your laughter when we deal with Beita Village, soon!!! They will beg to die, beg. In the end we will kill them. But only at the end," wrote Danino. According to the Times of Israel, there have "dozens of incidents of settler violence against Palestinians in the West Bank since the October 7 atrocities perpetrated by Hamas in southern Israel, but no indictments have been filed so far."
Israel's journalists union called on the police to protect correspondents reporting from the field in Arabic. A letter to the police chief claimed there have been several instances of journalist accosted and attacked. "It should not be necessary to note that not every journalist reporting in Arabic is an enemy," the letter said. Israeli outlets and the state broadcaster have Arabic platforms. "Every journalist, in every language, is entitled to full protection and the right to carry out their work safely, especially in wartime," the letter said.
Incoming rocket sirens wailed in Safed and nearby towns in the Upper Galilee, as well as in Acre and suburbs in the Western Galilee. This comes amid repeated attacks on northern Israel by the Hezbollah terror group and allied Palestinian factions in southern Lebanon. Also, there were suspected drone infiltration alarms sounding in Upper Galilee. Affected communities were: Yir'on, Jish, Rehaniya, Alma, Avivim, Kerem Ben Zimra, Baram, Dalton, and the Ramat Dalton Industrial Zone.
Israel's Health Ministry announced a budget of an additional $51.8 million to fortify hospital against missile and other assaults. This in addtion to $19.5 million already transferred since the outbreak of the war on October 7. According to Kan broadcasting, it became clear to officials and the public during the war that Israeli health facilities were not adequately safeguarded. More than half the operating rooms in Israeli hospitals are not fortified against missile attacks, according to Kan. Nearly all medical staff must exit unfortified operating rooms and go to safe areas when rocket sirens sound — except during critical lifesaving surgeries. In addition, only 30-40 percent of hospital beds in Israel are in protected spaces.
6:52 am
Senior Hamas official Osama Hamdan, who resides in Lebanon, apparently ruled out a partial exchange of hostages, saying that Hamas wants a "complete exchange" of Hamas prisoners in Israeli jails. In a speech on the evening of Nov. 12, Hamdan said that "our position on the prisoner file has been clear from the start, and it is a complete exchange of prisoners." He denied that there are talks for a partial release of hostages, and added that negotiations for foreign passport-holders are "obstructed" by Israel. He called to ensure the free movement of people inside Gaza who are collecting information about hostages being held in various locations, and demands that any proposal guarantee the safety of the captors.
6:26 am
The 27 EU countries jointly condemned Hamas's use of hospitals and civilians as "human shields" in the war against Israel. At the same time, EU foreign affairs chief Josep Borrell said that the EU demands "maximum restraint and targeting in order to avoid human casualties" on the part of Israel. Following weeks of contrasting statements by the body and its members, Borrell said, "You know how difficult it has been the last times, after the vote in the United Nations, where countries were voted in different ways, to present a completely united approach." Hours later, the EU members were in a vote on a General Assembly resolution calling for humanitarian truces in Gaza leading to a cessation of hostilities between Israel and Hamas. In a statement, the EU called for "pauses in hostilities and the establishment of humanitarian corridors, including through increased capacity at border crossings and through a dedicated maritime route, so that humanitarian aid can safely reach the population of Gaza." The body reiterated a "call on Hamas for the immediate and unconditional release of all hostages. It is crucial that the International Committee of the Red Cross is granted access to the hostages." It added, It adds that "the EU condemns the use of hospitals and civilians as human shields by Hamas."
The IDF announced that since it began its ground operations in Gaza around two weeks ago, it has carried out 4,300+ strikes. Hundreds of anti-tank guided missile launch sites and some 300 tunnel shafts have been struck by ground forces and the IAF. 3,000+ Hamas infrastructure sites, including more than 100 booby-trapped buildings and hundreds of command centers were hit. The IDF distributed new video footage showing troops operating in Gaza, as well as the recent strikes.
In an unusual development, former UK Prime Minister David Cameron was named foreign secretary in Britain's cabinet. In addition, Home Secretary Suella Braverman was fired. The government said Cameron will be appointed to Parliament's unelected upper chamber, the House of Lords. Cameron replaces James Cleverly in the slot, who is taking over the post vacated by Braverman.
6:16 am
Israel's Channel 13 reports that 'the growing assessment in the IDF is that war in the north is inevitable' amid escalating attacks from Hezbollah originating in Lebanon.
IDF spokesman Rear Adm. Daniel Hagari confirmed on the evening of Nov. 12 that the IDF captured Gaza's port. 
"Forces from the 36th Division, in cooperation with Navy  forces, raided the Gaza port. They are currently in the port and in the areas to its east," he says.
Gaza continues to face internet issues, with current metrics showing connectivity below half of pre-conflict levels; Palestinian Minister of Comms reports depletion of generator fuel to exchanges and towers with collapse of key networks expected as of Nov. 13 onwards.
5:09 am
German Foreign Minister Annalena Baerbock wants "humanitarian pauses" in the war between Israel and Hamas, but is rejects a ceasefire. Germany has backed Israel following the Oct. 7 attacks by Hamas. Meeting with her EU counterparts, Baerbock was quoted that she understands the "the impetus for a ceasefire," but questions howIsrael's security and safety of hostages held by Hamas can be guaranteed. She said that while  it "breaks one's heart, [a pause] is from my point of view the only possible policy to really curb this suffering in this situation."
British Prime Minister Rishi Sunak fired Home Secretary Suella Braverman, who had accused police of leniency when dealing with pro-Palestine protesters. Braverman was popular in some sectors of the Conservative Party. Last week, Braverman said London's police were ignoring lawbreaking by "pro-Palestinian mobs." She described them as "hate marchers." On Nov. 12, British nationalist demonstrators scuffled with police in London. On Nov. 11, Armistice Day, nationalist counter-protestors were arrested when they arrayed themselves against pro-Palestine demonstrators during the commemoration of the end of the First World War. 
The UN was joined by Hamas claiming that about 650 patients, 500 healthcare workers, and an estimated 2,500 displaced people remain in the sprawling al-Shifa hospital compound. A significant number of persons have left the hospital. Over the weekend, Gaza health officials had said about 1,500 patients, along with 1,500 medical workers and 15,000 displaced people were at al-Shifa, Gaza's largest hospital. It is surrounded by Israeli armed forces. It is no longer functioning.
The IDF has been battling Hamas terrorists outside al-Shifa. Israel has said it had offered safe passage to those wanting to leave. Over the Nov. 11-12 weekend, the last generator at the hospital reportedly exhausted its fuel. Hamas claimed this led to the death of several patients, including premature babies. Israel said it provided the necessary fuel for the neonatal unit, but Hamas did not receive the delivery.
A UN official said on Nov. 13 that many displaced people left the hospital and environs. Some families removed their relatives with moderate injuries. Some patients require specially equipped ambulances for transfer to Egyptian hospitals. According to the IDF, Hamas has its headquarters beneath the hospital, using patients as human shields. According to some estimates, Hamas has spent $1 billion+ on its underground labyrinth of tunnels, where it harbors fuel, food, water, and weapons systems. The UN official says today that many of the displaced fled the compound and that some families took relatives with moderate injuries with them. He says remaining patients require special procedures for evacuation including equipped ambulances to take them to Egyptian hospitals. The official speaks on condition of anonymity because he was not authorized to speak to journalists.
The number of alerts for rocket, terrorist infiltrations, and drone attacks has dropped significantly in recent weeks, compared to the barrages launched from Gaza during the first week of the war. In four hours at the beginning of Hamas's attacks on Oct. 7, more than 3,000 rockets were fired. Since then, another estimated 7,000 rockets have been fired at a much slower pace.
According to data from the Israel's Home Front Command, 3,523 alerts were activated between October 7 and 14, of which the vast majority were issued for rocket attacks. However, there have been a handful of drone attacks and some suspected infiltration alerts. From Oct. 15-21, there were 818 alerts; in the week of October 22 to 28, it issued 802 alerts; in the week of October 29 to November 4, it issued 582 alerts. For Nov. 5-12, the number dropped to 455 alerts, continuing the downward trend.
Hamas is stockpiling rockets for a long war, according to the IDF, but the IDF has controlled the ground in northern Gaza and made launches difficult. There were some alerts in recent weeks caused by attacks launched by Hezbollah and allied terrorists in Lebanon into northern Israel. There have also been drone attacks and a ballistic missile attack from the Iran-backed Houthis in Yemen.
United Airlines said planning to restore some flights to Israel, having been one of several carriers to end service to Israel after the war broke out on Oct. 7. Flights will be reintroduced gradually and routes and scheduled announced soon.
Today, two mortars were fired from Lebanon at northern Israel, according to the IDF, setting off alerts in Gornot HaGalil. The mortar rounds struck open areas and caused no injuries or damage. The IDF responded with artillery fire at the source. Overnight, the IDF struck a terror cell preparing an attack near the Biranit army base.
Israel's security cabinet approved shutting down the pro-Hezbollah Lebanese al Mayadeen satellite news station's broadcasts and operations in Israel. Communications Minister Shlomo Karhi had requested the shut down, saying the broadcasts "serve the interests of Israel's enemies" and harm Israel's national security. Defense Minister Yoav Gallant approved the request. An order to seize and confiscate the broadcaster's equipment is expected today. "Israel is at war. On land, in the air, at sea in cyberspace, in the electromagnetic spectrum and in [the public] consciousness," says Karhi. "Broadcasts such as these identify with the enemy, while harming state security and will be blocked. Al Mayadeen's channel's broadcasts and reports serve the despicable terrorist organizations, and the time has come for a reckoning with them. This is the first shutdown made by a temporary measure that allows the Israeli government to shutter foreign media outlets deemed to be harmful to national security. Karhi also wants to shut down Al Jazeera, based in Qatar.
The US defense department said that six pro-Iran terrorists were killed in US air strikes in eastern Syria. The raids were announced over the weekend as retaliation for attacks on US troops. A war monitor, the Syrian Observatory for Human Rights, put the death toll at eight, including "at least one Syrian and Iraqi national."
November 13, 2023
Topic tags:
Israel Swords of Iron Germany Hamas United States United Nations United Kingdom