Day Thirty-Nine Of Swords Of Iron
British police to investigate sources of 'shocking scenes of criminality' between pro-Palestine and pro-Britain demonstrators during Armistice Day celebration.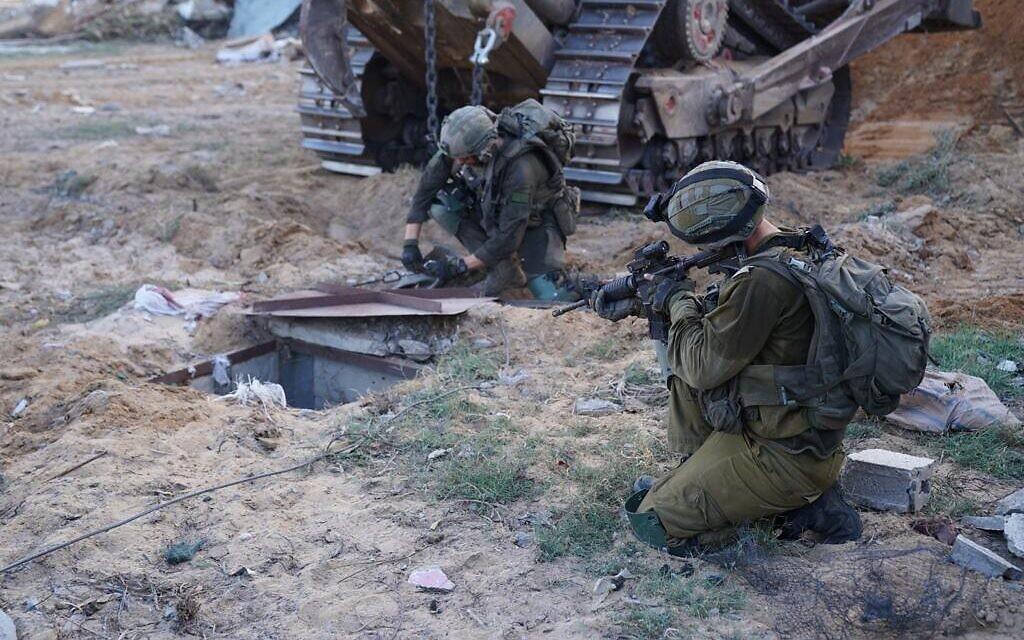 Israeli soldiers control a shaft leading down to underground tunnel in Gaza.
8:47 pm
Today, the White House validated Israel's contention that the Al-Shifa hospital complex conceals a subterranean Hamas command center, saying that it has intelligence to support the claims. There is a presumption that American special forces operators are on the ground and embedded with the IDF to collect the intelligence. The White House said it knows that Hamas and Palestinian Islamic Jihad use some hospitals in the Gaza Strip – including al-Shifa hospital – to conceal or support military operations and to hold hostages. Hamas strongly condemned and rejected the claims, adding that these statements "give a green light to the Israeli occupation to commit further brutal massacres targeting hospitals".
According to The Guardian:
"Al-Shifa has become a strategic objective for Israel, which sees the hospital as the nerve centre of Hamas' administrative and military capabilities. For Hamas and its supporters, it has become a symbol of the organisation's ability to fight against a militarily more powerful foe. For millions across the world, it has come to epitomise the suffering of innocent civilians. More than 11,000 people, about 40% of them children, have been killed, according to Palestinian authorities, and more than half of the population of Gaza have been made homeless."
Al Jazeera reported that Hamas declared, "We hold the occupation and President Biden responsible for the occupation army's storming of the Shifa complex." The Hamas-affiliated Shehab news agency says on X, citing Gaza's director of health, that Israeli forces have stormed "parts of Al-Shifa Medical Complex from the western side". An al-Shifa surgeon said tanks, bulldozers were in the hospital complex, where 'firing is still heavy'. Ahmed Mokhallalati, a surgeon at al-Shifa, told Al Jazeera,"We saw the tanks and the bulldozers on the centre's campus." Al Jazeera reported: 
He said he inspected the main building above the emergency room, and Israeli forces do not appear to have entered it. But he added that he does not know the state of other buildings that are also housing patients and displaced people. 'The firing is still heavy, and we are hearing explosions everywhere,' Mokhallalati told Al Jazeera.
Palestian Authority's minister of health, Mai Al-Kaila, said in a statement released early on Nov. 15: "The Israeli occupation forces are committing a new crime against humanity, medical staff, and patients by besieging and bombing Al-Shifa Medical Complex, west of Gaza City." The PA-controlled Wafa news agency reported from inside Al-Shifa that "a state of panic and fear prevailed" among patients, people sheltering at the hospital, and medical staff: According to Wafa, Al-Kaila said: 
...the occupation tanks were at the gates of Al-Shifa Medical Complex, surrounding it from all sides, and the past hours had witnessed intense shelling and gunfire in its vicinity. Our correspondent explained that a state of panic and fear prevailed among patients, displaced people, and medical staff inside the hospital, after the occupation announced its intention to storm the hospital.
8:40 pm
An IDF spokesman recently showed a satellite image of the Al-Shifa hospital in Gaza, which the IDF has asserted conceals an underground military "command" center, which was marked on the image. According to the IDF, the image is based on "the true material that we have in our hands". In footage said to be from an interrogation, a Hamas militant captured in October said how the Hamas terrorists are "hidden in the hospitals". Israel has also released other evidence apparently showing tunnels close to or in other medical facilities in Gaza. An IDF spokesman took a CNN correspondent on a tour of the Rantisi hospital, taking the reporter more than 60 feet below the ground to show subterranean rooms that had an armory and evidence of hostages held there.
Hamas and affiliated health officials in Gaza have denied the claims, saying they are propaganda used to justify attacks on hospitals. Dr Ghassan Abu-Sittah, at al-Shifa described the Israeli claim as an "outlandish excuse". Human Rights Watch, the US campaign group, said it could not corroborate the Israeli allegation.
At 8:00 pm ET, IDF spokesman Daniel Hagari tweeted, "at this time, IDF forces are operating against the terrorist organization Hamas, in a certain part of the Shifa hospital." He adds, "The operation is based on intelligence information and operational need. The action was not intended to harm the patients, the medical staff and the citizens staying at the hospital," and that, "In the continuation of the operation, incubators, medical equipment and baby food are expected to be transferred to the hospital."
8:35 pm
The State Department spokesman would neither confirm nor deny a rumor that the Biden administration soon plans to release another $10 billion to Iran, which is supporting terrorist groups such as Hamas and Hezbollah.
A recent Al Jazeera broadcast has gone viral, showing the network's correspondent interviewing a patient at a Gaza hospital who complains in front of the camera that Hamas terrorists are hiding among the sick in the medical center. Before the elderly, dust-covered patient can continue speaking, the Al Jazeera correspondent moves quickly away so that the message could not be heard. The Qatari-funded Al Jazeera network has been accused by Israel's backers of fanning the flames of conflict.
8:30 pm
The Guardian reported at approximately 7 pm ET:
The Israeli Defence Force said on X that it is "carrying out a precise and targeted operation against Hamas in a specified area in the Shifa Hospital".
The announcement came within an hour of Gaza health officials saying that the IDF had said it would raid the hospital "within minutes". The Gaza health ministry spokesperson, Ashraf al-Qidra, told Al Jazeera that Israel "informed us that it will raid Al Shifa hospital complex in the coming minutes."
al-Qidra added: "The occupation did not specify whether (its forces) would enter the complex. But it said that within a few minutes it would raid the complex. We do not know how it will raid it or what mechanism will be used, nor do we know (Israel's) intentions with the raid."
On its Hebrew X account, the IDF appeared to signal that once inside the hopsital, it would continue to have a presence there, saying, ""in the continuation of the operation, incubators, medical equipment and baby food are expected to be transferred to the hospital".
Three of the original 39 premature babies at al-Shifa have died since the hospital ran out of fuel at the weekend to power generators that had kept their incubators going, according to medical staff. The remaining 36 babies requiring neonatal care are still alive, Dr Ahmed El Mokhatallali, a surgeon, told NBC News on Tuesday.
Israeli forces have surrounded al-Shifa, Gaza's biggest hospital, after waging fierce street battles with Hamas fighters they accuse of having a command post under the complex. The US on Tuesday cited intelligence backing Israel's assertion, which Hamas denies.
1:51 am
Hamas distributed video that purportedly showed its combatants destroying Israeli tanks. However, the video turned out to be taken from a war simulation game 'Arma'.
1:45 pm
An advertisement that appeared today on the Palestinian network and shows a catastrophic kill of an IDF tank and then soldiers fleeing from it.  Slight problem, the tanks aren't Israeli Merkava tanks - even the wrong color - and the fleeing soldiers aren't wearing IDF uniforms (besides having Islamic beards).  The picture and video are actually from rebels vs. Syrian army in Damascus, Syria.
Iraq-based Kataib Hezbollah released on the evening of Nov. 13 a video of kidnapped Israeli-Russian academic Elizabeth Tsurkov. The four-minute video was the first sign of life released by the Iran-backed terror group since it captured Tsurkov in Baghdad in March 2023. In the video, Tsurkov claims to have been working for the CIA and Mossad to promote better bilateral relations between Syria and Israel, and to foster inter-Shia rivalries. She claimed that no effort had been made by Israel for her release.
Summary
The IDF confirmed the death of Noa Marciano, a female Israeli soldier seen in a hostage video posted by Hamas. Marciano, 19, was abducted by Hamas on Oct 7 with more than 1000 others. The al Qassam Brigades claimed she was killed in an Israeli airstrike on November. 9 The IDF had condemned the video, saying "The Hamas terrorist organization continues to exploit psychological terrorism and act inhumanely, through videos and photos of the hostages, as done in the past," and this morning listed her as a "fallen soldier held captive by a terror group." The IDF stated: "Our hearts go out to the Marciano family, whose daughter, Noa, was brutally kidnapped by the Hamas terrorist organisation. We are using all means, both intelligence and operational, to bring the hostages home."
Reportedly, Patients and medical staffers are trapped in Gaza's main Al0Shifa hospital after days of fighting between the IDF and Hamas. Aid agencies warn critical patients and babies are at risk of death due to lack of fuel and dwindling supplies of food and water. Al-Shifa hospital director Mohammad Abu Salmiya has said the hospital is being forced to bury 179 people, including babies and patients who died in the intensive care unit, "in a mass grave" in the complex. An AFP journalist claimed that the smell of decomposing flesh was evident there. 
IDF tanks have surrounded the hospital, which Israel claims lies above an underground Hamas operations center.
Another 200,000 people have fled northern Gaza since Nov 5, according to the UN. Only one hospital in Gaza's north is operational, while the others are not, serving as shelter. More than 1.5 million Gazans have left their homes. According to Hamas, about 11,240 Gazans have been killed since Oct. 7, including 4,630 children. About 1,200 Israelis have died in the conflict, most on  October 7.
The IDF opened a humanitarian corridor for Gazans to move south 9am (7am GMT) to 4pm, and would also pause hostilities for a limited period of time between 10am and 2pm "in the neighbourhoods of al-Daraj and al-Tuffah". IDF troops guard the displaced as they move south.
Al Jazeera reported 13 people have been killed by an Israeli airstrike in Khan Younis in the south of Gaza, near where Palestinians have been ordered to evacuate to by IDF.
The IDF struck more than 200 targets in the last 24 hours, "including terrorist operatives, weapon production sites, anti-tank missile launchers and operational command centres". The claims have not been independently verified.
The IDF killed several terrorists in Tulkarm. The IDF and police came under fire when they were called in to arrest suspected terrorists. An Israeli airstrike struck the Gazans who fired at and threw a bomb at the Israelis. Local media put the death toll at seven.
Canadian-Israeli peace activist Vivian Silver, 75, believed to have been among the hostages taken by Hamas into Gaza on Oct. 7, was in fact killed in the initial attack, her family has told Canada's CBC News. The Canadian foreign minister said last night that 346 Canadians and their immediate families have so far been able to leave Gaza via the Rafah border crossing into Egypt.
In France, more than 1,500 antisemitic acts and comments have been recorded since the outbreak of the Israel-Hamas war, the interior minister, Gérald Darmanin, has said. Darmanin told the media: "There have been 1,518 antisemitic acts or remarks. These are mainly tags and insults, but there are also assaults and injuries." Those acts resulted in 571 arrests, the ministry told AFP. Darmanin said there had also been anti-Muslim incidents, saying some mosques had received threats of violence, adding: "But they are not on the scale of what we are seeing in terms of antisemitism."
The IDF Bislamach Brigade raided the headquarters of Hamas' Central Camps Brigade, capturing the office of Ayman Nofal, who was killed by an IAF strike last month. It is near a cement facotyr where weapons and tunnels were found.
12:30 pm
Palestinian Islamic Jihad leader Ziad Nakhaleh threatened to bolt negotiations towards releasing hostages to wait for "better conditions" before moving forward. The terrorist group may be holding as many as 40 hostages of the total  of 240. Hamas is believed to be holding 180+ hostages and unaffiliated Gazan families are believed to hold an additional 20, complicating Qatar-led negotiations significantly. Nakhaleh said that "the conduct of negotiations with regard to the hostages that we detain and Israel's reactions will probably push the Islamic Jihad out of the deal." He said, "Islamic Jihad can keep its hostages [while waiting] for better conditions."
On Nov. 9, PLJ published the first evidence of the Israelis it holds in clips showing Hannah Katzir, 77, and Yagil Yaakov, 13, who were both kidnapped from Kibbutz Nir Oz on October 7.
The National Mall in Washington is already packed with thousands of people ahead of the pro-Israel rally. Speaker of the House Mike Johnson (R-La.) is slated to speak to the gathering.
12:22 pm
An CNN on the ground in Gaza was shown underground Hamas facilities beneath the Rantisi hospital. The video shows a shaft leading 20 meters underground, leading to basements below that allegedly showed evidence that hostages had been held there. An IDF spokesman on the scene said that the IDF had not entered the hospital five days before because patients were still there. Spokesman Hagari said that the IDF assisted the hospital staff to evacuate patients.
11:19 am
A 19-year-old female IDF soldier who was among of about 240 people abducted by Hamas during its Oct. 7 raid in Israel has died in captivity, according to Hamas and Israel. Today, the IDF announced the death of Noa Marciano but did not identify the cause of death. She was the first hostage confirmed to have died in captivity.
Vivian Silver, a Canadian-born Israeli activist who devoted her life to seeking peace, was confirmed killed in Hamas' Oct. 7 attacks in southern Israel. Silver, who moved to Israel in the 1970s, had been believed to be among the nearly 240 hostages seized by Hamas and held in the Gaza Strip. Identification of some of the most badly burned remains has gone slowly, and her family was notified of her death on Nov. 13. She was 75 years old.
11:00 am
Israeli Foreign Minister Eli Cohen told a press conference in Geneva: "[UN Secretary-General Antonio] Guterres does not deserve to lead the United Nations. Guterres did not promote any peace process in the region… Guterres, like all the free nations, should say clearly and loudly: 'Free Gaza from Hamas.'" His statement comes following a month of criticisms of Israel voiced by Guterres, who said last month that while nothing justifies Hamas' crimes, they "didn't occur in a vacuum."
Cohen called on the International Committee of the Red Cross to "work through all channels" to gain visits to the hostages held by Hamas in Gaza, after his meeting with ICRC president Mirjana Spoljaric Egger. "We expect the Red Cross to put the issue at the top of the organization's priority list, to use all levers of pressure, and not rest until it visits all the hostages, assesses their condition, and makes sure they are receiving the medical care they need," Cohen said. Several family members of Hamas' hostages were also present at the media appearance, as was Israeli Health Minister Uriel Buso.
Israeli hospitals prepare for more wounded
Israel's Health Ministry is recognizing Ziv Medical Center in Safed and Barzilai Medical Center in Ashkelon as Level 1 trauma centers. Thus, they will treat patients suffering serious and critical condition transfer to other hospitals. The two hospitals need upgrading for in their trauma-related staffing, equipment, infrastructure, patient capacity, and medical services. Until now, Rambam Medical Center in Haifa has been the only Level 1 trauma center in the north of Israel and Soroka Medical Center in Beersheba has been the only one in the south. The other Level 1 trauma centers are in the country's center at Sheba Medical Center, Ichilov Hospital and Beilinson Hospital in the greater Tel Aviv area, and at Shaare Zedek Medical Center and Hadassah Medical Center in Jerusalem. Hospitals near borders (Zvi, Barzilai) must now handle critical injuries. "One of the things that became abundantly clear to us during the events of October 7 is that we had situations in which it took many hours to evacuate the injured to the large hospitals," the Health Ministry's Dr. Hagar Mizrachi. "To be able to take care of these patients, we understood that we need to strengthen the hospitals on the front lines and give them the tools to respond in emergency situations such as urgent head injuries and chest injuries," she said.
American Jews across a spectrum of religious practice and political views are headed to Washington DC to participate in a rally against antisemitism and to free the hostages in Washington today. The Jewish Federations of North America have estimated 60,000 people are on their way to the March for Israel today in Washington, DC.
The IDF released additional video of the moment its Shayetet 13 commando unit and 401st Armored Brigade raided Gaza City's Rantisi children's hospital. In the basement was found a weapons cache, and a room that may have been used by Hamas to hold Israeli hostages hostages. On Nov. 13, IDF spokesman Daniel Hagari showed what he said is proof that the Rantisi basement was used by terrorists. 
'Horrific and gruesom' Hamas crimes
Congressional Democrats and Republicans attended a screening at the US House of Representatives of footage from the October 7 massacre that was compiled by the IDF. According to the Jewish Insider, one member left in tears after five minutes. "I'm feeling like I felt when I went to Birkenau," Rep. Darrell Issa (R-Calif.) told Jewish Insider. House Speaker Mike Johnson (R-La.) and Rep. Alexandria Ocasio-Cortez (D-NY) were in attendance. "It's obviously horrific and gruesome and it's hard to believe that in the year 2023 things like this are still happening, but unfortunately they are," Democratic Rep. Sarah Jacobs told JI.
IDF soldiers with bulldozers razed monuments for the late PLO chairman Yasser Arafat at the entrance to the Tulkarem refugee camp in the West Bank. No immediate reason is given for the razing.
10:52 am
Tens of thousands of people are expected to attend a rally in support of Israel and to condemn Hamas' terrorism today in Washington DC. It commenced with prayers and singing. Among the scheduled speakers is Speaker of the House Mike Johnson (R-La.)
9:18 am
A telephone call between the director of the Al-Shifa hospital in Gaza and a senior officer of the Israeli Coordination and Liaison Commission for Gaza shows that the IDF offered incubators and breathing machines to the hospital in an effort to safeguard babies and children at the hospital, currently surrounded by Israeli forces. See: https://videoidf.azureedge.net/e2ee828b-f757-40a1-88d1-967c659efd72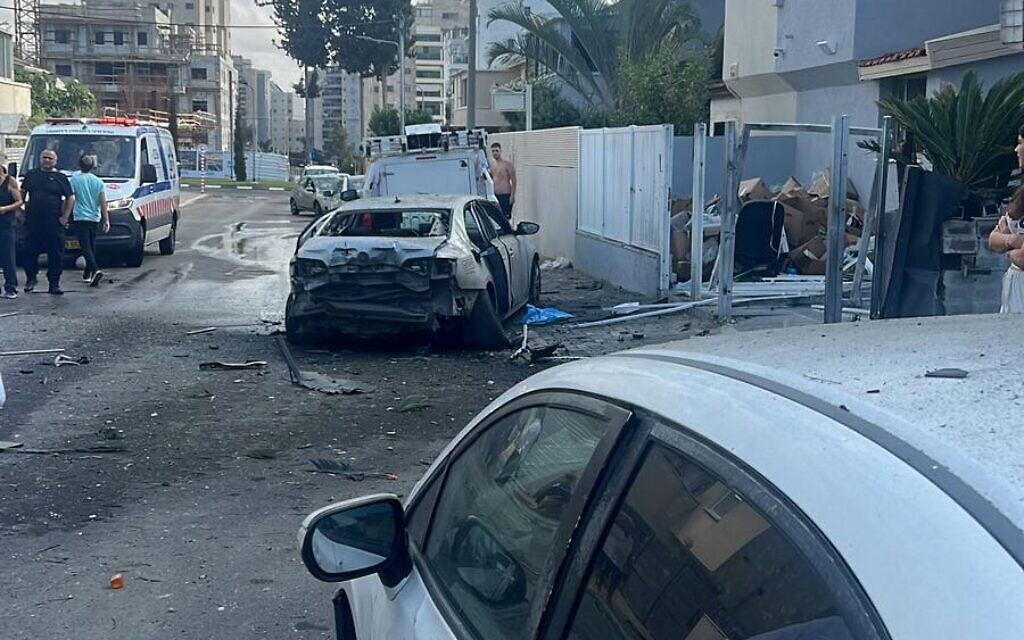 Residents of Ashkelon observe damage caused by Hamas rocket. Ashkelon Municipality photo.
8:25 am
The Biden administration imposed a third set of sanctions aimed at Hamas since Oct. 7, targeting the terrorist group's leadership and financiers. In coordination with the UK, the sanctions seeks out key officials of Hamas and the mechanisms by which Iran operates through Hamas and Palestinian Islamic Jihad.
Film-makers for and against Hamas
At least 12 film-makers and artists withdrew their work from the world's largest documentary film festival, after its organizers strongly condemned the use of the slogan "From the river to the sea, Palestine will be free" at an opening night protest. When Orwa Nyrabia of the International Documentary festival Amsterdam (IDFA) spoke on Nov. 9, three protesters took the stage holding a sign with the controversial slogan, which some believe calls for the eradication of Israel and genocide of Jews. Nyrabia applauded the protesters, but later claimed he did not see the words on the banner: "I clapped to welcome freedom of speech, and not to welcome the slogan," he said, adding that the slogan was "a triggering statement and an offensive declaration for many, regardless of who carries it".
The IDFA organizers said the message ran counter to their aim to provide a forum for civil debate. Before the IDFA issued its statement, 16 Israeli film leaders signed an open letter expressing their "uttermost dismay, disappointment and concern" at the opening-night protest and reports of its positive reception. The IDFA's statement in turn prompted protests from the Palestine Film Institute (PFI). Today, 12 film-makers followed the PFI's call to withdraw their films from the festival
London police probe Armistice Day demo
According to The Guardian British PM Sunak met with London's police chief to discuss unrest at the Cenotaph in central London, where British patriots confronted pro-Palestine demonostrators who had thronged there during the city's commemoration of the end of the First World War. Sunak's official spokesperson said: "The public rightly expect that the full force of the law is used to bear down on some of the shocking scenes of criminality we saw over the weekend, whether it was [far-right group] English Defence League protesters or those seemingly supporting Hamas, a proscribed terrorist organisation." Police arrested a score of Britons who protested against the pro-Palestine marchers. PA Media reported that Sunak would speak to the police chief to "get a shared understanding of how to approach these protests should there be significant protests in the future".
Since the war began, pro-Palestinian marchers have gone to central London every Saturday, On Nov. 11, approximately 300,000 pro-Palestinian protesters hit the streets, according to police. Police assistant commissioner Matt Twist said the violence, according to The Guardian was from rightwing protesters towards the police "was extraordinary and deeply concerning". London's Muslim mayor, Sadiq Khan, blamed the violence on Suella Braverman, who he claimed had stoked the tension and stirred up people on the far right. Sunak sacked her as Home Secretary on Nov. 13. 
Italy has sent humanitarian aid to Gaza. "Italy has sent two C130 military aircraft carrying 16 tonnes of humanitarian aid, which are in transit towards Gaza in these hours," Foreign Minister Antonio Tajani told the Italian parliament.
Israel will not accept existence of Gaza
Israeli finance minister Bezalel Smotrich said Israel no longer able to accept existence of Gaza, calls for 'voluntary emigration'. "I welcome the initiative of the voluntary emigration of Gaza Arabs to countries around the world. This is the right humanitarian solution for the residents of Gaza and the entire region after 75 years of refugees, poverty and danger. The State of Israel will no longer be able to accept the existence of an independent entity in Gaza." In the Wall Street Journal, Israeli Knesset members Danny Danon of Likud, a former ambassador to the UN, and Ram Ben Barak of Yesh Atid, a former deputy director of the Mossad, said: "It is imperative that the international community explore potential solutions to help civilians caught in the crisis. One idea is for countries around the world to accept limited numbers of Gazan families who have expressed a desire to relocate. Europe has a long history of assisting refugees fleeing conflicts. Countries around the world should offer a haven for Gaza residents who seek relocation. Members of the international community can collaborate to provide one-time financial-support packages to Gazans interested in moving to help with relocation costs and to ease refugees' acclimation to their new communities. We simply need a handful of the world's nations to share the responsibility of hosting Gazan residents."
The Football Association in England has suspended Wasim Haq, a BAME football communities rep, after he said: "Adolf Hitler would be proud of Benjamin Netanyahu." His social media posts had led to accusations of anti-Semitism, which he denied. The British Lawn Tennis Association sacked him as an independent councilor on Nov. 13. He continues to be suspended by the FA pending an investigation. He is also under investigation by England Golf, where he holds a role similar to that at the FA.
Another 200,000 people have fled northern Gaza in the past 10 days, the UN said. The UN office for the coordination of humanitarian affairs (Ocha) said today that only the al-Awda hospital still has electricity and ability to accept patients. Other medical facilities in Gaza City now function as shelters for Gazans fleeing combat.
According to Israeli media, Israeli and Palestinian officials seek to transfer unconscious patients and those requiring dialysis and cancer treatment to be evacuated from the al-Shifa hospital to the south. The IDF started to transfer incubators to Al-Shifa but it was not clear if they had been delivered or how they would be powered. Over the weekend, the IDF delivered fuel to run the incubators, which was refused by Hamas.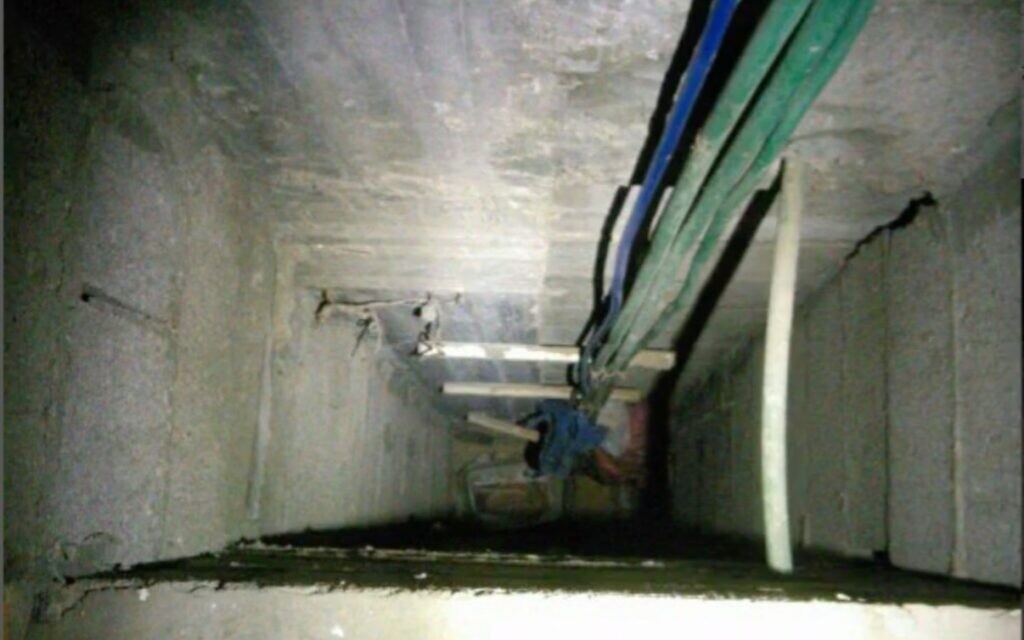 Tunnel shaft leading underground at Gaza hospital. IDF photo.
Israel says that al-Shifa, where fighting has reached the gates and trapped those inside, sits above the Hamas' "nerve center". Hamas often fires rockets from densely crowded residential areas, and maintains a vast tunnel network. The IDF showed video evidence of an underground redoubt troops discovered underneath the Rantisi hospital. A video showed that there were chairs in an underground chamber where people, presumed hostages, were bound by wire or rope.
Turkish Foreign Minister Hakan Fidan told Australian counterpart, Penny Wong, that Israel's targeting of hospitals and schools amounts to an "open violation of international law". Fidan called for a ceasefire and unhindered access of humanitarian aid into the enclave.
The IDF has reported that an alert has been activated in Israel's southern port resort of Eilat, which is being investigated. Eilat has been targeted in the past by missiles fired by Yemen's Iran=backed Houthis. 
November 14, 2023
Topic tags:
Swords of Iron Israel Hamas United States United Kingdom