Days 36–37 Of Swords Of Iron
Hamas terrorists opened fire on IDF troops assisting evacuation of civilians.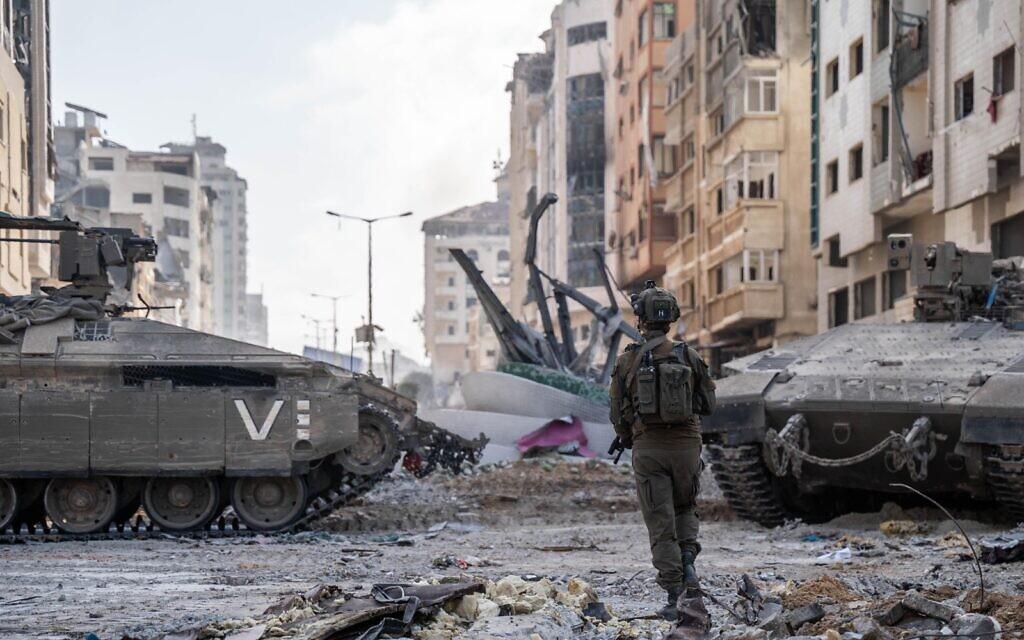 7:12 pm
Israeli television showed footage taken in Gaza in which a truck carrying aid to Gazan civilians was seized by police in the enclave, who beat civilians trying to get the food and supplies. The police reportedly took the aid for themselves.
7:00 pm
Iran's terrorist proxies in Iraq, who operate under the name Islamic Resistance, are believed responsible for nearly 50 attacks on US military personnel since Oct. 7 in Iraq and Syria. According to the Pentagon, about 56 US personnel have been injured in the attacks in Syria and Iraq, but all have returned to duty. Their injuries are a combination of traumatic brain injury and minor wounds.
The US military conducted airstrikes on two sites  of Iran-backed terrorists in Syria. A training location, and a weapons facility, were struck, Thisis the third time in than two weeks that the US has retaliated against the terrorists for a growing number of attacks on bases housing US troops in Iraq and Syria.
Defense Secretary Lloyd Austin said the strikes targeted sites near Abukama and Mayadin and were used by Iran's Revolutionary Guard Corps as well as Iran-backed militias. "The President has no higher priority than the safety of US personnel, and he directed today's action to make clear that the United States will defend itself, its personnel, and its interests," Austin said.
President Biden's senior Middle East advisor, Brett McGurk, will visit meet Israeli PM Netanyahu in Israel on Nov. 14. Further visits in Brussels, Saudi Arabia, Jordan, and Qatar are planned.
Sheik Hamad Jafari Al Thani, the leader of Qatar's government, talked to Biden and called for a ceasefire. Washington has rejected calls from Arab and Muslim leaders and others for the US to insist that Israel halt its assault on the Hamas-controlled Gaza strip.
Associated Press eoprted that the last generator operating at Al-Shifa hospital exhausted its fuel on Nov. 11, allegedly leading to the the deaths of three premature babies and four other patients, according to the Hamas-controlled Gaza Health Ministry. It said another 36 babies are at risk of dying.
Israel's military asserted it placed 300 liters (79 gallons) of fuel near Shifa overnight for an emergency generator powering incubators for premature babies and coordinated the delivery with hospital officials. "Sadly, they haven't taken the fuel yet," spokesperson Lt. Col. Richard Hecht said. He said if this fuel doesn't work, they will seek "other solutions for the babies."
A Health Ministry spokesperson, Ashraf al-Qidra, told Al Jazeera the fuel would not be enough to operate the generator an hour. "This is a mockery towards the patients and children," Al-Qidra said.
UN to Israel: 'No collective punishment'
In an interview with CNN's Fareed Zakaria on Sunday, UN secretary general Antonio Guterres said that Israel cannot use Hamas's October 7 attacks as "reason for collective punishment of the Palestinian people." "You need to be able to distinguish Hamas from the Palestinian people. And so you cannot use the horrific things that Hamas did as a reason for collective punishment of the Palestinian people," Guterres said.
6:50 pm
Michael Herzog, Israe's ambassador to the US, said that humanitarian pauses in the fighting in Gaza show that Gazans do not support Hamas. He told Fox News that Israel has secured two roads leading north to south and tht 200,000 Gazans have used it to flee the fighting in the north. He sees that as a lack of support for Hamas."They don't like us but they don't like Hamas either," he said.
Israel's Channel 12 reported: Hamas built over 1,000 km of tunnels at cost of over $1 billion; some can fit trucks & large missiles; other tunnels contain bunkers, sleeping quarters, command centers; Hamas plans to stay underground for months. IDF built secret a tunnel in central Israel to train troops for underground warfare; Israel developed diverse methods to enter tunnels using dogs, cameras, robots & special  forces. The Israeli army will go into tunnels if needed to rescue hostages.
6:43 pm
Leading Hamas terrorist Mohammed Sinwar, who was claimed to have died in 2014, is now believed to be alive and a mastermind of the Oct. 7 attacks on Israel. Israeli intelligence sources believe he has spent years living in the maze of tunnels Hamas has built underground in Gaza. 
Internet in Lebanon is down.
Unicef is repeating its calls for a ceasefire, as well as unrestricted humanitarian access across Gaza and the release of all abducted children.
Summary:
The World Health Organization contacted healthcare workers at Gaza's Al Shifa hospital where thousands of Palestinians, including critically injured ones, are sheltering as the Israeli military encircles the hospital. WHO chief Tedros Ghebreyesus called the situation "dire and perilous." Speaking today, he said, "It's been 3 days without electricity, without water and with very poor internet which has severely impacted our ability to provide essential care. The constant gunfire and bombings in the area have exacerbated the already critical circumstances. Tragically, the number of patient fatalities has increased significantly. Regrettably, the hospital is not functioning as a hospital anymore. The world cannot stand silent while hospitals, which should be safe havens, are transformed into scenes of death, devastation, and despair."
Secretary of State Blinken spoke with Qatari prime minister Mohammed bin Abdulrahman Al Thani on trying to increase humanitarian assistance to civilians in Gaza. They spoke of ensuring safe passage for foreign nationals and critically wounded from Gaza, Blinken tweeted today. "Important conversation yesterday with Qatari Prime Minister on efforts to expand humanitarian assistance to civilians in Gaza and ensure the safe passage of foreign nationals and the critically wounded out of Gaza."
Gaza is 'unrecognizable'
NGO humanitarian organization CARE International stated that Gaza's situation is "unrecognisable." CARE West Bank and Gaza director Hiba Tibi said: "Gaza is now unrecognisable. The conditions in the north are unbearable. It is almost impossible to find food and drinking water. There is simply nothing left. The journey to the south is incredibly dangerous and hard. Many of those who have made it out have experienced and witnessed terrible suffering. With each day that passes it is a miracle that people are still alive, particularly in the area near the two hospitals. My uncle is among those seeking refuge near Shifa hospital in the North to get treatment for a pre-existing condition. This week, they went to get food but could only find a few cucumbers and lemons to feed 13 people. The cucumbers cost eight times what they used to. Just a handful of the nearly 30 apartments in his building are occupied. Before, Gaza had 600 trucks arriving each day to bring supplies. Today, 32 days into the conflict, less than 600 have entered Gaza combined. We urgently need a ceasefire so that civilians can access food, water and medical supplies."
Germany: 'No ceasefire'
German chancellor Olaf Scholz is opposed to an "immediate" ceasefire in the Gaza Strip, despite multiple calls from Muslim countries, and international NGOs. "I don't think the calls for an immediate ceasefire or long pause - which would amount to the same thing - are right," Scholz said in a debate organized by the German regional daily Heilbronner Stimme. "That would mean ultimately that Israel leaves Hamas the possibility of recovering and obtaining new missiles," he said. He advocates "humanitarian pauses" instead. His stance is at odds with Muslim countries, and the leaders of France and Turkey.
On Nov. 11, the IDF announced it had killed Hamas commander Ahmed Siam, a leader of the al-Furqan Brigade, who had blocked 1,000 Gazan civilians from evacuating the Al-Rantisi Hospital in Gaza City last week, using them as human shields. 
The Medecins Sans Frontieres NGO said today that it has not been able to contact its staff in Gaza's Al-Shifa hospital since last night. "Other MSF colleagues living in Gaza city reported that the hostilities around Al-Shifa have not stopped. We are worried for their lives," it said. MSF has not been able to contact its staff inside Al-Shifa hospital since last night. Other MSF colleagues living in Gaza city reported that the hostilities around Al-Shifa have not stopped. We are worried for their lives."
UNICEF, UN Population Fund, and the World Health Organization are calling for "immediate action to halt attacks on healthcare in Gaza." They said: "We are horrified at the latest reports of attacks on and in the vicinity of Al Shifa Hospital, Al Rantissi Naser Paediatric Hospital, Al Quds Hospital, and others in Gaza city and northern Gaza, killing many, including children. Intense hostilities surrounding several hospitals in northern Gaza are preventing safe access for health staff, the injured, and other patients. Premature and new-born babies on life support are reportedly dying due to power, oxygen, and water cuts at Al-Shifa Hospital, while others are at risk. Staff across a number of hospitals are reporting lack of fuel, water and basic medical supplies, putting the lives of all patients at immediate risk…Attacks on medical facilities and civilians are unacceptable and are a violation of International Humanitarian and Human Rights Law and Conventions. They cannot be condoned. The right to seek medical assistance, especially in times of crisis, should never be denied. More than half of the hospitals in the Gaza Strip are closed. Those still functioning are under massive strain and can only provide very limited emergency services, lifesaving surgery and intensive care services…Decisive international action is needed now to secure an immediate humanitarian ceasefire and prevent further loss of life, and preserve what's left of the health care system in Gaza."
The Al-Shifa hospital's last generator has run out of fuel, which has lead to at least six deaths, including a premature baby and child in an incubator, according to The Guardian.
Biden administration: Israel won't reoccupy Gaza
US national security adviser Jake Sullivan said today that the Biden administration does not believe Israel intends to re-occupy Gaza after  the war, even though Israeli PM Netanyahu seemed to refuse to accept rule by the Palestinian Authority there. CNN host Dana Bash told Sullivan that it "sounds like an Israeli occupation of Gaza" was a likely outcome of the war that Israel launched after the deadly attacks against it by Hamas on Oct 7. "Is that where this is going?" Bash asked Sullivan. 
Sullivan replied: "This is not our understanding of the Israel government's position." "The American position on this is straightforward. Secretary [of state Antony] Blinken laid it out this past week: No reoccupation of Gaza, no reduction in the territory of Gaza, no forcible displacement of Palestinians. And Gaza should never be allowed to be used as a base for terrorist attacks against Israel or anyone else," he continued.
PM Netanyahu appeared separately speaking to Bash today. Netanyahu told Bash: "The first thing we … will do … [is] destroy Hamas. The second thing we have to understand is that there has to be an overriding and overreaching Israeli military envelope because we have seen any place that we leave – we just exit, give to some other force – very soon, terrorism resurgence, so we have achieved nothing." He also accused Palestine of failing to "demilitarize" or "de-radicalize" Hamas-ruled Gaza before adding: "We have to do it."
When Bash asked Netanyahu: "So, if not the [state of Palestine], then who?" Netanyahu said: "There has to be a reconstructed civilian authority. There has to be something else." "Let's create a different reality there," he added.
IDF helps evacuate babies in hospital
Today, the IDF said it had "enabled the evacuation" of two hospitals and opened an additional route to facilitate the safe passage of the civilian population to the south of the Gaza Strip. Israel had pledged on Nov. 11 to help evacuate babies from the  hospitals, which have been caught in Israel's ground offensive and repeatedly hit by strikes. But Melanie Ward, chief executive of the group Medical Aid for Palestinians, questioned how such an evacuation could be undertaken safely. "The transfer of critically ill neonates is a complex and technical process," Ward said. "With ambulances unable to reach the hospital - particularly those with the skills and equipment needed to transfer these babies - and no hospital with capacity to receive them, there is no indication of how this can be done safely."
Government-owned Israel Aerospace Industries (IAI) signed a $1.2 billion deal to supply air defense systems to Israel's military, the company said today. "IAI finds itself in an accelerated mode to supply systems and solutions for Israel's defence establishment, for all theaters of operation, whether sea, ground, air or space," IAI said, noting the deal was with the defence ministry.
UN says staff are not safe
UN secretary general Antonio Guterres told CNN today, "No, on the contrary" when asked if UN personnel in Gaza are safe. Speaking to CNN host Fareed Zakaria, Guterres said, "The numbers are growing by the day," and added that 101 UN employees have been lost as of today. "You can't imagine what it is [like] to run an organization in which 101 people that were working purely to help address the humanitarian needs of people…be killed. And some of them were killed with their families in their houses by bombardment," said Guterres.
Guterres said there will be a one minute of silence on Nov. 13 across the UN. "We are a family. We feel very dramatically [for] those of our family that die. And you can't imagine how difficult it is for me to tell our colleagues that they must go on in this very dangerous situation," he said.
Israeli PM Netanyahu has said Israel will not stop its fighting around Al Shifa hospital in Gaza, where there have been multiple reports of people being shot as they attempted to flee the facility. When asked how the IDF will ensure sick and injured Gazans will be treated, he said, "Well we've called to evacuate all the patients from that hospital and in fact 100 or so have already been evacuated." The Guardian reported that an extension to the intensive care unit at the Al-Shifa hospital had been bombed and that dead and injured people are lying on the ground there.
Regarding how Palestinians should evacuate sick people from Al-Shifa and other hospitals, he said, "We're telling them to leave," Netanyahu said.
"[We're] helping them by creating safe corridors. So we have designated routes to a safe zone, south of Gaza city where there's no fighting and we're telling them: 'Go ahead, move.'"
Netanyahu said he would not implement longer "humanitarian pauses" of several days, if "large groups" of Israeli hostages were freed. The US has called for Israel to implement three-day long pauses in its fighting in Gaza, in order to allow Palestinians to escape the worst hit areas.
"That's not a pause. If you're talking about stopping the fighting, that's exactly what Hamas wants," Netanyahu said.
NGOs put Gazans at risk
Israeli spokesperson Eylon Levy accused international agencies operating within Gaza of actively putting Palestinian civilians' lives at risk. Specifically naming the International Committee of the Red Cross, the World Health Organization (WHO) and the UN office for the coordination of Humanitarian Affairs in the occupied Palestinian territory, Levy said "For a month, they've refused to support an evacuation from north. Now they're endangering everyone by requiring a hasty evacuation in the middle of ground urban warfare."
An Israeli ambulance service spokespersonsaid that one civilain was critically wounded and between three and five others injured by fire into Israel from Lebanon Sunday morning. The Israeli military said it was retaliating with artillery fire, after the civilians were hit by anti-tank missiles.
Thousands attend rally against anti-semitism
180,000 people, including prominent politicians, marched in Paris to denounce anti-Semitism amid a spike in anti-Semitic inciidents throughout France.  "I will be marching for the values of the Republic and against antisemitism," tweetedÉlisabeth Borne, the French prime minister whose Jewish father was deported during the second world war: "This combat is vital for our national cohesion."
Interior Minister Gérald Darmanin, said more than 3,000 police and gendarmes would be deployed to maintain security along the route of the "great civic march" from the Quai d'Orsay, on Paris's Left Bank, to the Luxembourg gardens in the centre of the capital.
Emmanuel Macron, the French president, did not take part, but said he took part "in my heart and in my thoughts", adding that there could be "no tolerance for the intolerable" and France must be "united behind its values, its universalism". In a letter published in Le Parisien newspaper, Macron condemned the "unbearable resurgence of unbridled antisemitism" in France. "A France where our Jewish citizens are afraid is not France," he said.
4:40 pm
Israel's Channel 12 reported that the IDF is dropping leaflets in southern Lebanon, telling residents to move northward. Other Israeli media sources re-confirmed with the IDF that indeed those leaflets calling for evacuations northwards were still being dropped on southern Lebanon. One step closer to full-fledged second front.
The IDF still believes that it's possible to deter Hezbollah terrorists by escalating retaliatory attacks, and if this will not succeed, then the operational defense mode will be gradually turned into operational offense with all the consequences. An IDF spokesman said today: "We have operational plans on how to change the security reality on the Lebanon border. We will not allow our citizens to return home and find terrorists sitting on the border. We are ready for every development"
The IDF has repeatedly called for the evacuation of Gazan residents from northern Gaza—especially the al-Shifa, Rantisi and Nasser hospitals, an officer of Israel's Coordination and Liaison Administration to Gaza informed the manager of the al-Shifa Hospital with evacuation passages from the hospital
Israeli PM Netanyahu tells NBC 'there could be' potential deal to free hostages held in Gaza.
10:35 am
The Montreal Gazette reported:
Montreal Jewish school again target of gunfire Sunday. It was the second time in several days shots were fired at Yeshiva Gedola in the Notre-Dame-de-Grâce—Côte-des-Neiges borough.
10:19 am
Summary
Today, Hamas it is suspending hostage negotiations because of Israel's handling of the al-Shifa hospital in Gaza, acording to The Guardian. Israel's three major TV news channels had reported there was some progress toward a deal, which would involve 50 to 100 women, children and elderly being released in stages during a three to five day pause in fighting.

The World Health Organization said late on Nov. 11 that it had lost contact with its interlocutors at al-Shifa hospital in northern Gaza, which Israeli forces have now surrounded. WHO has "grave concerns" for the safety of patients and staff trapped there by the fighting while calling for an immediate ceasefire. "As horrifying reports of the hospital facing repeated attacks continue to emerge, we assume our contacts joined tens of thousands of displaced people and are fleeing the area," it said in a post on social media. The hospital's last generator ran out of fuel on Saturday, causing the death of a premature baby, another child in an incubator and four other patients, according to Gaza's Hamas-controlled health ministry.
IDF spokesman Lt Col Richard Hecht said plans to try to evacuate babies from the al-Shifa hospital in Gaza were still being "developed". On Nov. 11, IDF spokesman Rear Adm Daniel Hagari said "We will provide the assistance needed" to evacuate babies from the hospital.
The Palestine Red Crescent Society announced today that the al-Quds hospital in Gaza is "out of service and no longer operational". It states that "the cessation of services is due to the depletion of available fuel and power outage." The Hamas-run health authority said it is unable to issue updated casualty statistics in Gaza "due to the targeting of hospitals".
Israeli spokesperson Eylon Levy accused international agencies operating within Gaza of actively putting Palestinian civilians' lives at risk. Specifically naming the International Committee of the Red Cross, the World Health Organization (WHO) and the UN office for the coordination of Humanitarian Affairs in the occupied Palestinian territory, Levy said "For a month, they've refused to support an evacuation from north. Now they're endangering everyone by requiring a hasty evacuation in the middle of ground urban warfare."
In an Israeli attack in Khan Younis in southern Gaza, Al Jazeera claims 13 people have been killed in an attack on a residential building. Khan Younis is south Gaza, where Israel has told Gazan civilians to assemble after leaving the north where the fighting is most intense.
An Israeli ambulance service said that one civilian was critically wounded and between three and five others injured by fire into Israel from Lebanon this morning. The IDF retaliated with artiller fire after the civilians were hit by anti-tank missiles.
Reuters reported that Egyptian security sources said today that 7+ injured Gazans arrived on Egyptian soil through the Rafah border crossing, and that 32 Egyptians crossed over, alongside 80 foreign nationals and dependents. Russians and Poles crossed. Reuters said 80+ aid trucks have crossed into Gaza from Egypt today.
In his weekly address, Pope Francis called for the wounded of Gaza to be given care immediately and that civilian safety should be assured. He called for more humanitarian aid for Gaza, and the freeing of hostages held by Hamas in Gaza.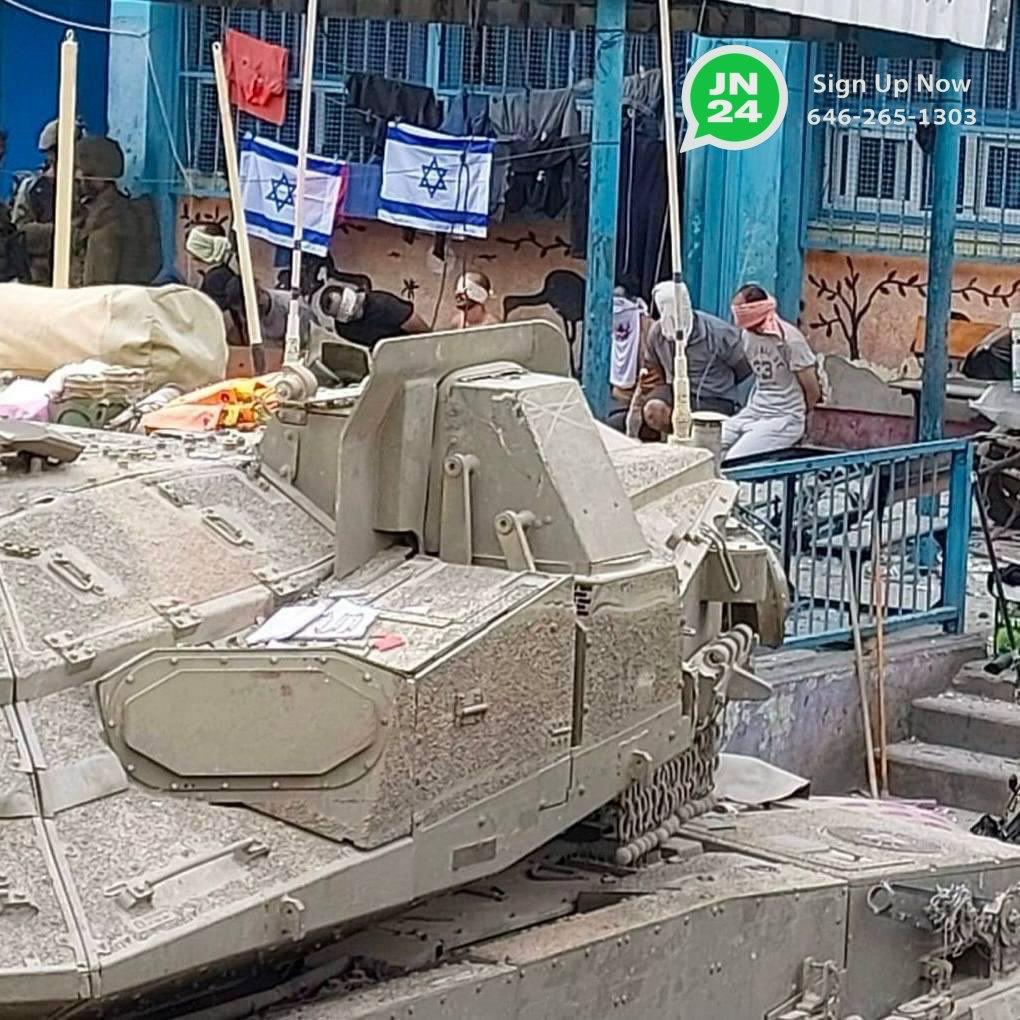 Hamas terrorists in Gaza surrender to IDF troops, Nov. 12, 2023
4:21 am
Summary:
IDF Chief of State Lt. Gen. Herzi Halevi flew over Gaza to view the  ground operation and to speak with forces over the radio. In a video, Col. Yair Palai identifies the Golani Brigade from the ground: "Right now we are waving at you with the flag of the 1st Brigade, and with the flag of the number one country." In response,  Halevi said: "Tell all your people that you are doing an important job, everyone is behind you, and the entire IDF is working for you to advance, until victory." Onboard was Israel Air Force's chief of staff, Brig. Gen. Omer Tishler, and the commander of the 100th Squadron, Lt. Col. Shay.
Opposition leader Yair Lapid was angered by reports that Israel's Finance Ministry will continue to fund political priorities in the West Bank and for ultra-Orthodox schools, despite a government resolution to reallocate coalition discretionary funds to the war effort. "While IDF soldiers are risking their lives, Finance Minister [Bezalel] Smotrich is harming the war effort, harming national resilience, harming Israeli society," Lapid tweeted. He wrote that Smotrich, a former settler activist, "is not interested in anything except his 'base,'" Lapid wrote, who is using "Israeli citizens' money to practice petty politics during wartime."
Israel's Defense Ministry has signed an agreement for the sale of the David's Sling air defense system to Finland, in a deal estimated at 317 million euros (NIS 1.3 billion). The system is built by Rafael Advanced Defense Systems and is capable of David's Sling, produced by Rafael, is capable of intercepting rockets and missiles at a range of 40-300 kilometers (25-185 miles). It has been operational in Israel since 2017, and forms a part of Israeli defense which includes short-range Iron Dome and the top-level Arrow systems, which are intended to engage long-range ballistic missiles.
'Humanitarian pauses' continue
IDF says will continue on Nov. 12 with humanitarian pauses to enable evacuation from north Gaza. The Salah a-Din road southbound will be open for seven hours, between 9 a.m. and 4 p.m. The IDF will also make "tactical pauses in military activities" in Jabaliya and the nearby neighborhood of Izbat Malien today between 10 a.m. and 2 p.m., so that Palestinians can reach the humanitarian corridors to evacuate south. There is also a from al-Shifa Hospital, via Al-Wehda Street, to reach the Salah a-Din road, for Palestinians to reach southern Gaza, he says.
Rocket sirens wailed in Gornot HaGalil, close to the border with Lebanon. There are no immediate reports of injuries or damage. This came after repeated missile and rocket attacks by Hezbollah, as well as several drone attacks.
The IDF is closing in on al-Shifa hospital in heavy fighting in Gaza City. IDF believes Hamas's main HQ is in the hospital precinct. According to Gazan officials, thousands of medical personnel, patients, and displaced people are trapped in the area around the hospital, which has no electricity and no resupply of medical supplies. The IDF has said it will help to evacuate babies from the hospital in the coming hours.
Israel has presented evidence that Hamas's main command center is underneath the hospital. It has accused Hamas of using the hospital and its occupants — with 1,500 beds and some 4,000 staff — as human shields for its bunkers and tunnels beneath it. Hamas reportedly has fuel and other supplies stockpiled there that it has refused to civilians.
Hamas fires on IDF evacuating civilians
On Nov. 12, Hamas terrorists opened fire on Israeli troops assisting civilians seeking to flee.  The IDF says  Givati Brigade troops identified civilians in a building, and enabled them to evacuate. During  the evacuation, Hamas opened fire at the soldiers. The troops returned fire and tanks shelled the gunmen, killing them, the IDF said.
Separately, Israeli troops identified a cell of Hamas terrorists holed up in a building in al-Shati, and directed an airstrike. A fighter jet struck Hamas weapons depot in a building in the camp, after a missile was fired from it, the IDF says.
The United States has asked for clarification of Israeli PM Netanyahu's Nov. 11 comments that Israel will have security responsibility for the Gaza Strip for an indefinite period after the war.  Netanyahu said on Nov. 11 that Israel opposes the return of the Palestinian Authority to Gaza and the West Bank following the war — which is reportedly a goal sought by the Biden administration. Netanyahu and others have condemned the PA for teaching children to eliminate Israel, educates children to want to eliminate Israel, supports terrorism, and has yet to condemn Hamas's Oct. 7 assault on Israel.
On Nov. 10, Netanyahu said the IDF will remain in control in Gaza after the current war ends, and will not rely on international forces to oversee security along the border. He told ABC News last week that  Israel will have "overall security responsibility" over Gaza "for an indefinite period" after the war against Hamas ends.
Macron attends in his 'thoughts'
A march in Paris to condemn anti-Semitism is expected on Nov. 12 and bring thousands to attend, with the exception of the far left.  National Assembly speaker Yael Braun-Pivet and Gerard Larcher, the Senate speaker, had called last week for  a "general mobilization" against the upsurge in anti-Semitism. They will lead the march behind a banner stating "For the Republic, against antisemitism."  Marine Le Pen, a three-time presidential candidate for the National Rally, will march, as will party president Jordan Bardella.
Far-left leader of France Unbowed, Jean-Luc Mélenchon, said his party will not participating, explaining that the event is  a "rendezvous for unconditional supporters of the massacre [of Gazans]."
More than 3,000 police and gendarmes will be deployed in Paris for the march. French President Emmanuel Macron says he will attend in his "thoughts." "I'll be there in my heart and in my thoughts," Macron says after warning last week that antisemitism was on the rise again in France.
France has recorded nearly 12,250 antisemitic acts since the attack.
'Unbearable resurgence of antisemitism'
In a letter to citizens, Macron stresses the need to combat the "unbearable resurgence of unbridled antisemitism," branding the phenomenon "odious." "In one month, more than a thousand antisemitic acts were committed on our soil. Three times more acts of hatred against our Jewish compatriots in a few weeks than during the whole of last year," Macron says in the letter, published on the Le Parisien news website. 
"Our Jewish compatriots therefore experience legitimate anguish. Fear to take their children to school. Fear of going home alone. Fear to the point of hiding their name to protect themselves," Macron writes, adding: "A France where our fellow Jewish citizens are afraid is not France. A France where French people are afraid because of their religion or their origin is not France."He hails police actions aimed at countering the epidemic and bringing antisemitism "back to where it belongs: in court and behind bars. No tolerance for the intolerable."
Macron notes the atrocities committed by Hamas on October 7, reiterating that he backs Israel's right to defend itself without qualification. But he urges political dialogue and building a "humanitarian coalition" that will facilitate a "humanitarian truce leading to a ceasefire."
November 12, 2023
Israeli PM Netanyahu refused calls for a ceasefire, saying that Israeli retaliation for Hamas terrorism will continue with "full force." Late on Nov. 11, Netanyahu said on television that a ceasefire would be possible only if all 239 hostages are released. "The war against (Hamas) is advancing with full force, and it has one goal, to win. There is no alternative to victory," Netanyahu said.
Netanyahu said Gaza will be demilitarized and Israel would retain security control there. Netanyahu said Israeli forces must be able to enter Gaza freely to hunt down terrorists. He rejected the Palestinian Authority as a future ruler in Gaza. US Secretary Blinken has said in the past that the PA, which also administers areas of the West Bank, will control Gaza in the future. 
Hezbollah is "close to making a grave mistake" that will result in the residents of Beirut suffering the consequences, Israeli Defense Minister Yoav Gallant warned late on Nov. 11 while touring the northern border region of Israel. "I am telling the citizens of Lebanon, the residents of Gaza are already walking with white flags and moving south. Hezbollah is dragging Lebanon into a possible war, and it is close to making a grave mistake," said Gallant.
Fighting between Hamas and the IDF continued all day Nov. 11 al-Shifa hospital, which the IDF contends is a base for terrorist operations. There are reports that people in the hospital have requested IDF assistance to rescue babies currently in the hospital because Hamas is refusing Gazan civilians from leaving. IDF will evacuate babies trapped in Gaza's Dar al-Shifa hospital on Nov. 12, according to IDF spokesman Daniel Hagari. He said on Nov. 11: "The staff of the Shifa hospital has requested that tomorrow we help the babies in the pediatric department to get to a safer hospital. We will provide the assistance needed." According to Physicians for Human Rights Israel, two premature babies have died due to power cuts at al-Shifa hospital.
According to hospital director Mohammed Abu Selmia said the facility had lost power on Saturday. "Medical devices stopped. Patients, especially those in intensive care, started to die," he said by phone, with gunfire and explosions in the background. Air strikes continued overnight.
The World Health Organization said it had lost contact with its staff there and expressed "grave concerns" for the safety of everyone trapped there by the fighting while calling for an immediate ceasefire.
UN aid chief Martin Griffiths said: "Hospitals must be places of greater safety, not of war." He tweeted on Nov. 11: "There can be no justification for acts of war in healthcare facilities, leaving them with no power, food or water, and shooting at patients and civilians trying to flee."
Médecins Sans Frontières has warned that patients and medical staff in Gaza are "trapped in hospitals under fire" and called on the "Israeli government to cease this unrelenting assault on Gaza's health system". It said in a Nov. 11 statement, "MSF urgently reiterates its calls to stop the attacks against hospitals, for an immediate ceasefire and for the protection of medical facilities, medical staff and patients."

The IDF announced that 46 Israeli troops have been killed since its ground operations began.
According to Israel's three major TV news channels, progress was made to free hostages held by Hamas in Gaza. Netanyahu said he would not discuss details of any possible deal, which according to N12 News would involve 50 to 100 women, children and elderly being released in stages during a three to five day pause in fighting.
Lebanon's Hezbollah chieftain Sayyed Hassan Nasrallah said its combatants had used new types of weapons and struck new targets in Israel,. He pledged that Hezbollah will continue fighting along Lebanon's border with Israel. In his second televised address since the conflict started, Nasrallah said on Nov. 11 that Hezbollah had shown "a quantitative improvement in the number of operations, the size and the number of targets, as well as an increase in the type of weapons".
Israeli defense minister Yoav Gallant warned Hezbollah not to escalate fighting along the border. "Hezbollah is dragging Lebanon into a war that might happen," in a video aired by Israeli television channels.
Anti-war protesters protested in Tel Aviv late on Nov. 11, calling for a ceasefire and the release of hostages. Some carried signs saying "Israelis for ceasefire," "War has no winners" and "Only peace talks will solve this".
Meeting on Nov. 11 in Saudi Arabia, Muslims leaders (including a rare appearance by Iran's president) condemned Israel for the war against Hamas terrorists, rejecting its self-defense claims. The group's final statement accused Israel of crimes and terrorism against the people of Gaza and the West Bank. The final declaration also demanded that the UN Security Council adopt "a decisive and binding resolution" to halt Israel's "aggression." It also called for an end to weapons sales to Israel and dismissed any future political resolution to the conflict that would keep Gaza separate from the West Bank.The Muslim leaders condemned Israeli forces' "barbaric" actions in Gaza but did not approve economic and political sanctions. Iran's president Ebrahim Raisi Muslim governments to designate Israel's military a "terrorist organization."
According to police, over 300,000 people turned out to show support for Palestine on the day reserved to honor the dead of the First World War. The Guardian claimed the pro-Palestine marchers were mostly "peaceful." However, police arrested 82 counter-protesters "to prevent a breach of the peace" and claimed police had "face aggression from counter protesters...in significant numbers." Pro-Palestine marchers chanted "free, free Palestine" and "ceasefire now" and "from the river to the sea, Palestine will be free!"
"The Massachusetts Institute of Technology has acknowledged that the reason it did not follow through with threats to suspend students participating in an unauthorized anti-Israel protest this week was its concern that they could face deportation because they were not U.S. citizens. This acknowledgement appears in a statement issued by MIT President Sally Kornbluth in response to the protest, which according to Israeli and Jewish students, posed a danger to their physical safety and prevented them from attending classes that day.
November 11, 2023
Topic tags:
Israel Biden administration Swords of Iron Finland United Nations United States United Kingdom