Days Forty-Three And Forty-Four Of Swords Of Iron
Israel Prime Minister Benjamin Netanyahu says 'No deal'.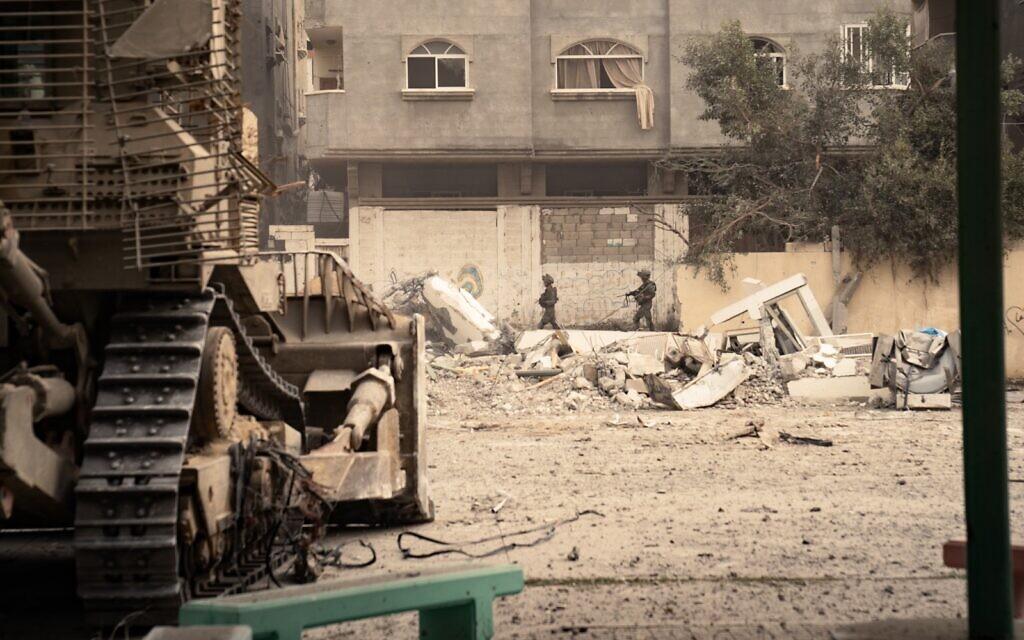 7:29 am
There is a Washington Post report that a tentative deal has been struck for Israel to pause its attacks for five days, in return for Hamas releasing hostages. The Post cites unnamed sources familiar with the supposed deal. At the moment, there has been no official confirmation from any of the parties involved in negotiations. The White House said there is no deal yet, but work continues towards producing one. The Israeli president Benjamin Netanyahu said a few hours before the Post's story was published that "as of now there has been no deal". After the Washington Post's unconfirmed report that Israel, Hamas and the US have struck a tentative deal for Israel to pause its attacks for five days in return for Hamas releasing hostages, White House national security council spokesperson Adrienne Watson posted on X: "We have not reached a deal yet, but we continue to work hard to get to a deal."
The following is a summary of events in the war in Gaza at The Guardian newspaper:
Fifteen Palestinians were killed early on Sunday in Israeli air bombardments of the central and southern Gaza strip, the Palestinian news agency WAFA reported. Thirteen were killed in an attack on a home in Nuseirat camp in central Gaza, while a woman and her child were killed in southern Khan Younis city, WAFA said.
The World Health Organization has described Al-Shifa hospital - once the largest, most advanced, referral hospital in Gaza - as a "death zone" following a visit on Saturday. Lack of clean water, fuel, medicine, food and other essentials means it was no longer functioning as a medical facility, WHO said, adding that corridors and the hospital grounds were filled with medical and solid waste. The WHO's team also reported signs of shelling and gunfire, and a mass grave at the entrance of the hospital, where they were told more than 80 people were buried.
There are 25 health workers and 291 patients still in Al-Shifa, including 32 babies "in extremely critical condition", WHO said. It is urgently developing plans for the evacuation of the patients, staff and families who remain at Al-Shifa Hospital within the next 24–72 hours. However, Nasser Medical Complex and European Gaza Hospital in the south of Gaza, where they will be transferred, are already working beyond capacity.
Israeli PM, Benjamin Netanyahu, said on Saturday evening that he rejected what he described as "increasingly heavy pressure" from the international community, including some in the US, saying Israel refused to agree to a "full ceasefire". He said: "Many people around the world demanded that we not enter the Gaza Strip – we did so... They warned us not to enter [Al-Shifa hospital] even though it served as a central terrorist base for Hamas – we did so. They pressured us to agree to a full ceasefire – we refused. And I have made it clear: we will only agree to a temporary ceasefire and only in exchange for the return of our hostages."
Netanyahu also rejected what he described as "unsubstantiated rumours" and "incorrect reports" regarding a possible deal to release hostages in exchange for a pause in fighting during the press conference on Saturday night.
US national security council spokeswoman Adrienne Watson said US officials "continue to work hard to get to a deal", but said no agreement had yet been made. She said this in response to a Washington Post report saying Israel, the US and Hamas were close to reaching an agreement that would free dozens of hostages, in exchange for a five-day pause in fighting that could allow greater flow of humanitarian assistance.
The head of UNRWA, the UN agency for Palestinian refugees, earlier warned that Israel's approval of "only half of the daily minimum requirements for fuel for humanitarian operations in Gaza … is far from enough." In a statement on Saturday, UNRWA chief Philippe Lazzarini said: "This is far from enough to cover the needs for desalination plants, sewage pumps, hospitals, water pumps in shelters, aid trucks, ambulances, bakeries and communications networks to work without interruption."
More than 80 people were killed on Saturday by double Israeli strikes on the Jabalia refugee camp, Gaza's health ministry said. "At least 50 people" were killed in an Israeli strike on early Saturday morning at the UNRWA-run al-Fakhouri school in the Jabalia refugee camp a Gaza health ministry official said. Another strike on a separate building in the camp killed 32 people of the same family, 19 of them children, according to the official.
Médecins Sans Frontières strongly condemned a "deliberate attack" on a convoy evacuating its staff members and their families, which it said had resulted in one death and one injury. The convoy was attacked on Saturday, as it was trying to evacuate 137 people, from MSF premises located near Al-Shifa hospital.
Thousands of demonstrators, including family members of hostages kidnapped by Hamas, marched into Jerusalem on Saturday in angry calls for the Israeli government to do more to bring their relatives home. The march capped a five-day trek from Tel Aviv and represented the largest protest on behalf of the hostages since they were dragged into Gaza by Hamas on 7 October.
In an op-ed in the Washington Post on Saturday, US president Joe Biden said that the Palestinian Authority should govern Gaza and the West Bank after the war between Israel and Hamas. "Gaza and the West Bank should be reunited under a single governance structure, ultimately under a revitalized Palestinian Authority, as we all work toward a two-state solution," he wrote. He also said that "extremist violence against Palestinians in the West Bank must stop."
November 18-19, 2023
Topic tags:
Swords of Iron