Pipeline Politics
When Russian, Ukrainian, and Israeli Lines Intersect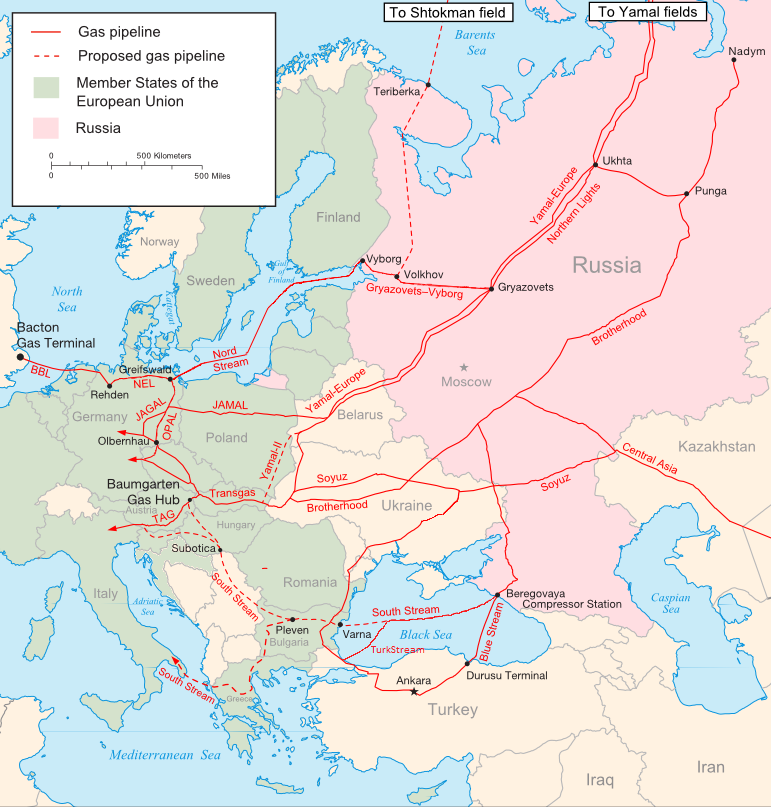 Russia's drive to dominate natural gas pipelines to/in the European Union (EU) is impacting Israel's ability to provide diversified energy resources to the region. Russia is the world's second largest producer of natural gas. Over the past eleven years, Russia has built three new pipelines through northern and southeastern Europe (Nord Stream 1 & 2 to Germany and TurkStream to Turkey). These projects threaten the flow of Russian natural gas through Ukraine's pipelines to the EU, a key economic resource for the country. Israel's Eastern Mediterranean (EastMed) pipeline project to southeastern Europe is also caught in the crosshairs of this dynamic.
Russia has maintained a grip on Ukraine since its 1991 secession. While Ukraine's elected leaders have variously expressed Russian and Western leanings, the country is still economically dependent on Russia's natural gas resources. Originally constructed during the 1970s and 1980s, when part of the former Soviet Union, Ukraine's pipelines carry up to 80 percent of the natural gas to the EU while the country accrues related transit fees.
Russia's present and past military maneuvers against Ukraine appear to escalate as new pipeline projects serving the EU divert natural gas revenues away from Ukraine, as during the 2014 Crimean invasion. Russia first initiated plans in 2007 for a subsea pipeline in the Black Sea, South Stream, to serve the Baltic and southeastern European nations. Between 2008 and January 2009, payment disputes arose between Russia and Ukraine, with Ukraine stopping natural gas payments to Russia and Russia temporarily halting gas flows to Ukraine and the EU, causing gas prices to skyrocket. In May of that year, Russia signed an agreement to begin building the South Stream pipeline. Construction began in 2012. Russia's goal was to dominate this EU corridor through its major energy company, Gazprom, while bypassing Ukraine.
In March 2014, following intense conflict, Russia annexed Crimea and gained control of its leased Ukrainian seaport, Sevastopol. Russia also enlarged its Black Sea maritime boundaries for pipeline development and shipping access. A few months later, the EU suspended the South Stream project for failing to meet anti-monopoly laws at the Bulgarian on-shore entry point. Under EU law, gas transmission lines must have different ownership from the company selling the natural gas. This avoids Russian domination of energy resources and prevents future gas flows from being shut off in acts of political extortion. Bulgaria and Russia failed to meet this requirement. The South Stream pipeline was ultimately diverted to Turkey, completed in 2020, and renamed TurkStream.
Russia's current military escalation is following a similar pattern centered around Nord Stream 2, a second Russian Baltic pipeline which would double Germany's energy resources. The project is nine miles short of completion. A consortium of companies completed the first Nord Stream to Germany in 2011 via the Baltic Sea. Nord Stream 2, built by Gazprom, along with the first pipeline, bypasses Ukraine's and Poland's natural gas transit infrastructure, depriving them of future revenues. German and EU regulators have not approved completion of Nord Stream 2 because, once again, it fails their anti-monopoly laws.
The EU's goals are to reduce natural gas dependence on Russia and to develop renewable energy sources. Russia wants to gain access to EU markets while reducing their dependence on Ukraine and Poland. As regional tensions are escalating, the US, EU, and Germany are in negotiations with Ukraine to provide them with protections for future economic losses. Should Russia invade Ukraine, the US is threatening Russia with severe economic sanctions, which will impact global markets.
Seeking diplomatic solutions to this threat, the US has proposed giving Ukraine $50 million through 2024 to support replacement clean energy projects. The eastern portion of the country would reduce coal burning plants. Germany would also establish a billion-dollar fund to facilitate Ukraine's transition to green energy. In return, the US and EU want Russia to extend Ukraine's pipeline agreements until 2034. Russia is demanding that Ukraine not join the EU, which precludes future protections from NATO.
Amid recent Russian and Ukrainian tensions, the US called off support for the East Mediterranean (EastMed) pipeline project between Israel and southeast Europe. In 2016, Israel discovered significant natural gas deposits 50 to 80 miles west of Haifa, in the Mediterranean Levantine Basin. Israel is now a dominant energy player in this region, serving its own needs as well as those of Egypt, Jordan, and Syria. To help southeast Europe diversify their natural gas resources, Israel signed a framework agreement with Greece and Cyprus in 2020, and Italy in 2021, referred to as the EastMed pipeline.
Russia's intention to dominate the EU natural gas market and bypass Ukraine's infrastructure complicates the EastMed project. Earlier, in 2019, the US backed the EastMed pipeline to reduce the EU's dependence on Russian energy. Unexpectedly, in January 2022, and timed with the present Russian-Ukraine conflict, the Biden administration reversed this earlier decision. The reasons cited include lack of economic viability at $7 billion, environmental concerns, and a destabilizing impact on the region. The US would instead support the development of interconnector pipeline projects between Israel and Egypt to Crete and the Greek mainland, as well as between Israel, Cyprus, and southeast Europe.
The US decision to pull back on support for the EastMed project appears related to past moves made by Turkey (a NATO member) as well as current Russian tensions. Turkish President Recep Tayyip Erdogan established an illegal treaty with the interim Government of National Accord (of Libya) in late 2019, creating a Turkish Exclusive Economic Zone (EEZ) in the Mediterranean along the northwest maritime corridors of Cyprus. This corridor traverses the proposed EastMed route in defiance of the hard-won Pipeline accord. In February 2022, following the US decision opposing the project, Erdogan announced his willingness to send armed drones to Ukraine to boost defenses against Russia. Given Turkey's access to pipelines supporting parts of southern Europe, Erdogan is openly posturing to invite natural gas discussions with Israel.
The current natural gas alliance between Israel and Egypt can be expanded from the Levantine Basin with subsea and onshore pipelines as well as liquefied natural gas (LNG) shipping corridors. However, the southeast European route would entail negotiations to connect with Turkey's pipelines. Erdogan's authoritarian and fundamentalist approach to governance, as well as his weakened economic situation, makes him a wild card. His past support of Hamas in Gaza is in direct opposition to Israeli interests. Plans are expected for Israeli President Isaac Herzog to visit Turkey in mid-March for exploratory discussions.
Israel has the opportunity to support the EU in its energy diversification efforts. Russia is intent on dominating the EU market and diverting natural gas away from Ukraine. Given the escalating tensions between the latter two countries, the economic consequences are enormous. It is the energy market connection for natural gas dominance that is driving the region's conflicts.
Cultural ethicist Faye Lincoln is author of Values That Shape the World: Ancient Precepts, Modern Concepts (Dialog Press, 2021). She analyzes the values-based implications of US. and Middle Eastern policies based on history, religion, economics, and public policy.
Topic tags:
Israel EU Russia Ukraine