Pro-Israel Groups' Joint Statement on Berkeley's Judenfrei Zones
Anti-Israel groups end free speech at Berkeley.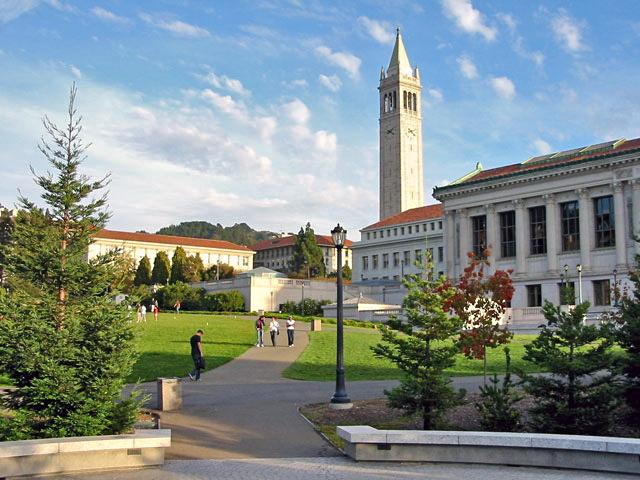 University of California-Berkeley campus.
Agitators aligned with the left are increasingly common on American campuses, but they crossed a red-line at the University of California-Berkeley. Several student organizations on the campus, which saw the birth of the free-speech movement in the 1960s, announced a boycott of any speaker expressing sympathy for Israel or Zionism.
Initiated by the Law Students for Justice in Palestine (LSJP), the ban prohibits speakers who support, "Zionism in the apartheid state of Israel and in the occupation of Palestine," a move that the LSJP considers is "vital for the safety and welfare of Palestinian students on campus." LSJP garnered support from eight other student organizations at the prestigious law school.
The ban imposed by LSJP stems from a campus culture increasingly hostile to Jews. For example, according to the Israel Hayom website, Rose Hirsch, a Jewish student and deputy chair of the Southern California University Students Union, wrote  that she was "harassed and followed on campus for months only because she is a Zionist."
Hirsch wrote: "I was told that my support for Israel has turned me into a partner in the crime of racism, and therefore I am a racist myself.
Elsewhere in the U.S., anti-Semitic and anti-Israel sentiment is notable on other campuses. At Tufts University in Boston, university authorities have attempted to remove student Max Price from the Student Union because of his utterances in favor of Israel.
Pro-Israel Jewish groups have since released a statement condemning the ban initiated by the Law Students for Justice in Palestine at UC-Berkeley and expressing their disappointment.
The statement noted that 95 percent of American Jews support Israel and the 80 percent see that Israel is an essential or important part of Jewish identity, as are the observance of the Sabbath and kosher dietary laws. Therefore, Zionism is vital to a majority of Jews and their identity.
The list of signatory organizations is growing. See below:
 
We, the undersigned Jewish and pro-Israel organizations, are disappointed by recent events at the University of California, Berkeley, in which nine registered student organizations at Berkeley Law have amended their bylaws to ban any speakers that support Israel or Zionism — a standard Berkeley Law Dean Erwin Chemerinsky noted would ban both himself and 90% of his Jewish students from speaking at events hosted by these organizations.
Gallup in 2019 found that 95% of American Jews support Israel, and Pew in 2020 indicated that "eight-in-ten U.S. Jews say caring about Israel is an essential or important part of what being Jewish means to them."
Jewish faith and identity for millennia have been anchored by the desire to restore sovereignty in our indigenous homeland, the core idea of Zionism. Like observing Shabbat and kosher dietary laws, Zionism is vital to the consciousness of many, if not most, Jews.
The bylaw is a vicious attempt to marginalize and stigmatize the Jewish, Israeli, and pro-Israel community and to normalize the requirement that Zionist Jews hide or alter a fundamental aspect of their identity in order to be fully accepted in certain arenas. This is unabashed antisemitism. The fact that nine student organizations at Berkeley Law have already adopted this view raises a very real concern that they will work to persuade others to do the same. Indeed, such a requirement by even one club is too many.
The implication is unambiguous: Berkeley Law is telling its Zionist Jewish students to get used to the idea that there will be certain spaces in which they are not welcome.
The UC Regents have spoken to this issue with firmness: "Anti-Semitism, anti-Semitic forms of anti-Zionism and other forms of discrimination have no place at the University of California."
And their instructions to university leaders have been clear: "The Regents call on University leaders actively to challenge anti-Semitism and other forms of discrimination when and wherever they emerge within the University community."
We therefore call upon Berkeley Law to immediately take all lawful and necessary steps to ensure that none of its student organizations is permitted to discriminate against Jews based on any aspect of their Jewish identity, including their Zionism. As a first step, the nine student organizations should rescind the new, discriminatory provisions from their bylaws or face appropriate sanctions for their failure to do so.
(List in formation)

Alpha Epsilon Pi
Alums for Campus Fairness
American Israel Public Affairs Committee (AIPAC)
American Jewish Committee
A Wider Bridge
CAMERA on Campus
Club Z
Combat Antisemitism Movement
CUFI on Campus
Foundation to Combat Antisemitism
Hadassah, The Women's Zionist Organization of America, Inc.
Hasbara Fellowships
Israel on Campus Coalition
Israeli-American Council (IAC)
JewBelong
Jewish Institute for Liberal Values
Jewish on Campus
Jewish National Fund – USA
Louis D. Brandeis Center for Human Rights Under Law
Passages
Simon Wiesenthal Center
StandWithUs
StandWithUs Center for Combating Antisemitism
StopAntisemitism
Students Supporting Israel
The Lawfare Project
The Philos Project
World Jewish Congress
World Values Network
Zeta Beta Tau
Topic tags:
Antisemitism free speech racism academia california