Unbreakable U.S./Israel Relationship Enters Stormy Waters
Identity politics endangers American society and polity, but also America's relationship with Israel.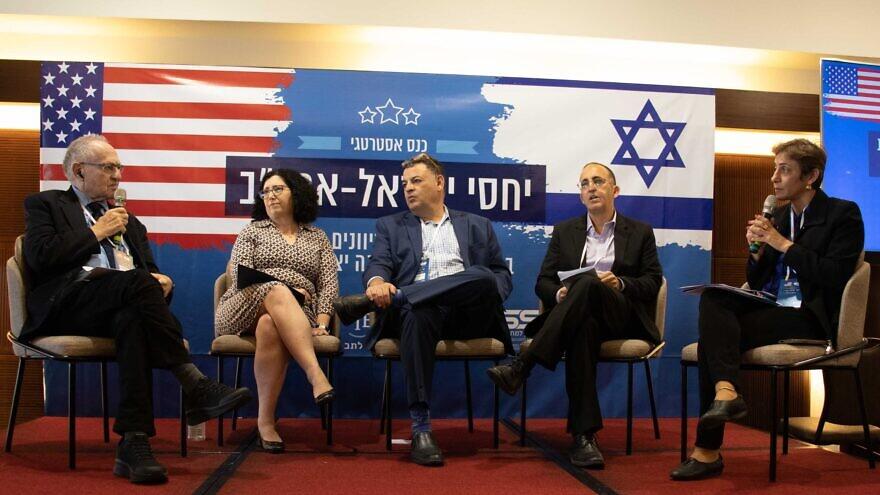 It's referred to as the "unbreakable alliance," but a conference in Tel Aviv on Monday painted a more disturbing picture, of a U.S.-Israel relationship headed for trouble.
The conference, titled "Israel-U.S. Relations: Trends and Looking Ahead," became a call to arms as speakers insisted the matter was now at the level of a national security threat. It was sponsored by The Reut Group, the Israeli Institute for Economic Planning (IEP) and the Institute for National Security Studies (INSS), and featured politicians, public figures, former IDF officers, analysts and U.S. Jewish leaders.
"This conference is a warning conference," said IDF Maj. Gen. (res.) Tamir Hayman, executive director of INSS. "We expect a reality that within five to 10 years the superpower support that Israel enjoys will be at risk."
Warning of a world where the United States no longer vetoes anti-Israel resolutions at the United Nations, or helps replenish Israeli weapons stockpiles, philanthropist and high-tech entrepreneur Yossie Hollander, who helped organize the conference, said, "The present situation between the government and the elite is still good, but the situation we're moving toward is catastrophic."
Among the currents within the United States working against Israel highlighted during the day-long conference were American political polarization, a new generation whose values are at odds with the Jewish state, and the rise of a radical, progressive ideology that has swept through America's institutions.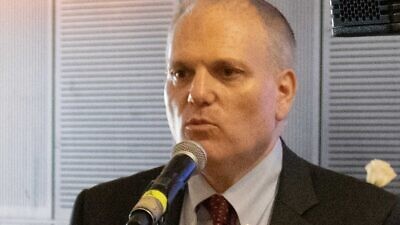 William Daroff, CEO of the Conference of Presidents of Major American Jewish Organizations. Photo by David Isaac.
The conference's first speaker, William Daroff, CEO of the Conference of Presidents of Major American Jewish Organizations, focused on the political polarization, noting that Democrats and Republicans were increasingly partisan in their thinking, leaving less room for agreement on key issues.
"We must do all that we can to ensure that support for a strong U.S.-Israel relationship does not become yet another divisive partisan issue, like reproductive rights and gun control," he said.
Daroff also noted the rise of fringe ideas within the mainstream, from classic antisemitic tropes on the far right to intersectionality on the far left.
Most conference participants viewed the threat from the left as greater than that from the right. According to Fern Oppenheim, president and co-founder of the Brand Israel Group, a nonprofit organization that studies Israel's image in the United States, "Israel is not so top-of-mind for many Americans, and not particularly relevant to them. What this oppressor-victim narrative of the progressive left has done is pretty ingenious. They have found a way to make Israel relevant to the middle in a negative way."
She also noted a shift in values among younger Americans, who have adopted what are generally referred to as progressive values. "They are all about human rights, diversity, tolerance, accepting alternative lifestyles, other religions, mixed marriages. And when you look at how they view Israel, Israel falls short with regard to the values that they hold dear," she said.
Her group's studies have consistently found that Americans perceive Israel as "ultra-religious."
"I've heard many of the speakers so far say shared values are the bedrock of the American-Israeli relationship. Well, if the future of the United States does not believe that Israelis share their values, that is truly I think the definition of a national security challenge," she said.
Former Harvard University law professor Alan Dershowitz said that when talking about progressive values, it should be stressed that they are no more than words used cynically by those pretending to advance them.
"Many of us … have much stronger commitments to human rights than these progressives. These progressives are involved in human wrongs," he said. "I hate the term progressive, because these are regressives. These are people who don't believe in due process. They don't believe in free speech. They don't believe in equality. They don't believe in meritocracy."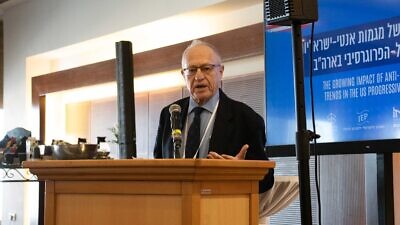 Alan Dershowitz addresses the conference. Photo by David Isaac.

Dershowitz was most forceful in his view of where the danger was coming from: "There are only threats from the left, not from the right."
While not denying attacks from right-wing antisemites, he argued that they didn't pose a threat to American Jewry, or Israel, as they are roundly condemned. The left, on the other hand, holds sway at American universities, he said. "The canary in the mine has always been the universities. They are the future," he added.
"When I see and hear from my students, I know what the country is going to be like 10 years from now, because the students sitting in front of me, 10 years from now are going to be the United States senators, the United States congresspeople, the editors of The New York Times, the senior partners of Goldman Sachs," he said.
If schools are the canary in the coal mine, the future painted at the conference was bleak indeed. Alyza Lewin, president of the Louis D. Brandeis Center for Human Rights Under Law, said, "With increasing frequency, Jews who believe that Israel has a right to exist are being shunned, marginalized and excluded from student clubs, support groups, social justice advocacy spaces and even student government. They are being labeled as racist Zionists, and they're being treated as pariahs."
Michael Dickson, executive director of StandWithUs Israel, said the group was hearing an increasing number of complaints from high schools and middle schools.
Mark Rotenberg, vice president of university initiatives and legal affairs at Hillel International, told JNS that a Jewish student's reaction depends on his prior connection to Jewish life. Those without any are "even more reluctant to stick their necks out," he said. However, those Jewish students once only marginally involved with Jewish life have become galvanized.
Rotenberg also noted that it's more challenging explaining left-wing antisemitism to students, who view right-wing antisemitism as coming from "kooks" or "townies." Left-wing antisemitism is on-campus. "It's their roommates. It's their faculty. And so it's more troubling for many Jewish students to understand antisemitism from the left," he said.
A conference panel, "The Growing Impact of Anti-Israel Trends in the Progressive Left," attempted to offer insight into the nature of "woke" ideology that has swept through U.S. institutions following the killing of George Floyd in May 2020. The ideology, which revolves mainly around race, lumps Jews into a "white" category, identifying them as part of a "privileged" and therefore "oppressor" class.
David Bernstein, CEO of the Jewish Institute for Liberal Values and author of "Woke Antisemitism: How a Progressive Ideology Harms Jews," said the ideology is hardwiring a generation "to think in binary terms. And that's the danger."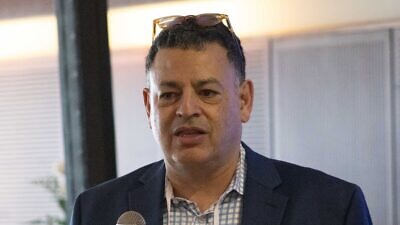 David Bernstein, founder of the Jewish Institute for Liberal Values. Photo by David Isaac.

If you teach that privilege and power are linked to identity, you will lead young people to view Jews, who are on the whole successful, as privileged because they're Jewish, and not because of hard work, personal determination to succeed, or anything they've done to earn that success, said Bernstein.
"It's not that you have to name the Jews or Israel. It's that you're installing software into kids' brains to look at the world in a very specific way, that will lead them to view Jews and Israel in a certain way," he said.
Bernstein warned that some Jewish institutions were following the trend, rather than fighting it, noting that he's seen training for rabbis that encourages them to "disrupt acts of whiteness in our own race, and that we Jews ourselves are complicit in white supremacy."
While several speakers noted that many of the political and social currents sweeping through the United States were not directly related to Israel, presumably making it more difficult for Israel to act against them, none suggested Israel was helpless.
IDF Brig. Gen. (res.) Sima Vaknin Gill, co-founder of Strategic Impact, said during the concluding panel that Israel knows how "to synchronize," that is, focus its institutions on a problem that's been defined as a national security threat. But she admitted Israel must partner with the American Jewish community, as well as other communities in the United States.
She also noted that "there is pushback against wokeness" in the United States.
Several speakers said Israel and U.S. Jewry must look to forge new alliances. Bernstein pointed to the Asian-American community, which is also targeted by woke ideology.
"That's one thing we've got to think about: who are the people supporting democracy and opposing extreme ideologies on both sides of the political spectrum. They are our friends and we've got to take steps to get to know them."
Topic tags:
United States Israel Antisemitism Geopolitics