White House Strategy On Antisemitism Criticized For Muddled Approach
Critics charge, by "welcoming" the Nexus Document on antisemitism, the Biden administration is validating worse forms of the scourge.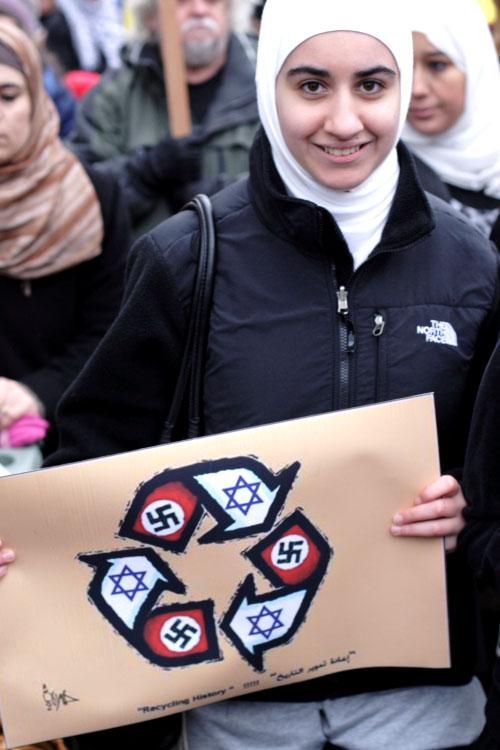 Credit: Robert Friend Weber Whitlock. Wikimedia Commons.
The first-ever national strategy to combat antisemitism was announced by the White House on Thursday May 25, 2023, drawing praise but also criticism from many Jewish groups and Israel supporters who criticized it for issuing an official "welcome" to the "The Nexus Document" which weakens key aspects of the International Holocaust Remembrance Alliance proscriptions against using Zionism to blame Jews uniquely or collectively,
Among those raising concerns about how antisemitism is defined by the strategy were Ken Marcus, founder and chairman of the Brandeis Center, a civil rights advocacy organization, as well as noted human rights author Edwin Black.
"The past several years, hate has been given too much oxygen, fueling a rapid rise in antisemitism," said President Joseph Biden in a prerecorded statement, announcing the strategy, adding, "It's simply wrong. It's not only immoral, it's unacceptable. It's up to all of us to stop it."
He proposed a four-channel strategy to address the "whole of society" to combat anti-Semitism, and educate the public about the Jewish heritage of the U.S. It calls for reversing the normalization of antisemitism and antisemitic discrimination, ensuring zero-tolerance of hate speech on social media platforms, improving government communications with Jewish groups, and increasing education in schools about antisemitism.
In response, Marcus of the Brandeis Center, a non-partisan public advocacy organization dedicated to advancing the rights of the Jewish people, offered a statement with a detailed analysis of the White House strategy. For strengths, Marcus stated, "The White House listened to the Jewish community and rightly endorsed the IHRA working definition of anti-Semitism—as administrations of both parties have done for many years—and explicitly acknowledged that federal civil rights law protects Jewish Americans based not only on their religion, but also on their ethnic and ancestral backgrounds.
"This is significant. The IHRA definition remains, as it is widely called, the gold standard for defining anti-Semitism. It is the only internationally-agreed upon anti-Semitism definition. The Biden administration was wise to reject misguided efforts to reduce the federal government's support for this standard, which was well-entrenched within Executive Order 13899 as well as U.S. Education Department guidance. The Administration was also wise to reject efforts to elevate the more extreme so-called Jerusalem Declaration.
"In addition, the Biden strategy is impressively broad, providing for a large number of programs and policies to address anti-Semitism, such as increased support for education about Jewish heritage and the Holocaust. We also appreciate the commitment to include anti-Semitism within Diversity, Equity, & Inclusion programs and hope that this leadership inspires action among the states and within the private sector.
"The emphasis on physical security for synagogues and other Jewish institutions is also welcome and, sadly, much needed. We applaud the forceful reiteration of the protection of Jewish Americans against not only religious discrimination but also discrimination based on ethnic or ancestral background.
"And we commend the White House acknowledgment that, 'When Jews are targeted because of their beliefs or their identity, when Israel is singled out because of anti-Jewish hatred, that is antisemitism. And that is unacceptable.'"
"We appreciate that the national strategy as described is intended to combat all manifestations of anti-Semitism including anti-Zionism. And we applaud the forceful reiteration of the protection of Jewish Americans against not only religious discrimination but also discrimination based on ethnic or ancestral background."
Marcus continued, that for weaknesses, "The new plan, however, retreats from the White House's longstanding commitment to issue regulations strengthening the civil rights protections of Jewish students. Instead, the new strategy only proposes to remind institutions of their existing obligations. The Biden administration has repeatedly promised to issue Education Department regulations that apply the Executive Order on Combating Anti-Semitism. This rulemaking, which the White House recently postponed until December 2023, will be a much-needed response to anti-Semitism on college campuses. The White House's failure to mention this crucial activity is deeply disappointing. Instead, the new strategy would apparently downgrade this important rulemaking to a Dear Colleague Letter with lesser legal status.
"This is an unfortunate reduction in the federal government's commitment to admit Jewish students at a time when the White House acknowledges that they are under attack. It is not enough for the administration to remind institutions of their existing duties; instead, the administration should be moving the ball forward and strengthening these protections.
"In addition, the White House has unnecessarily muddied the waters by praising the Nexus Document, which is inconsistent with the national strategy's stated goal of addressing all contemporary forms of anti-Semitism and which could undermine the proper and effective usage of of IHRA.
"Use of any definition other than IHRA will enable the continued normalization of anti-Semitic hate and prevent uniform and effective enforcement measures to combat it. Indeed, the third pillar of the national strategy – reversing the normalization of anti-Semitism and countering anti-Semitism discrimination – relies on the ability to recognize and identify anti-Semitism.To that extent, the definition used to label anti-Semitic conduct is essential."
Edwin Black, who has written several books on corporate and government collusion with pseudo-scientific eugenics and the Nazi Holocaust, commented, saying "Behind the scenes and in between the lines of the White House antisemitism strategy, President Biden himself never specifically mentioned the International Holocaust Remembrance Alliance (IHRA) which proscribes vicious anti-Israel diatribes when an attack on Jews collectively. But many mainstream Jewish organization, such as ADL and Conference of Presidents all on cue issued simultaneous statements applauding the IHRA adoption. Behind the scenes, however, the anti-Israel swell within the Biden Administration opposed IHRA, and jockeyed for the Nexus Document which completely greenlights the worst type of anti-Israel and anti-Zionist agitation. So, the White House adopted both."
Black pointed to the White House Strategy document, at p. 13, which states, "There are several definitions of antisemitism, which serve as valuable tools to raise awareness and increase understanding of antisemitism. The most prominent is the non-legally binding 'working definition' of antisemitism adopted in 2016 by the 31-member states of the International Holocaust Remembrance Alliance (IHRA), which the United States has embraced. In addition, the Administration welcomes and appreciates the Nexus Document and notes other such efforts." Black added, "Note the reference to the "Nexus Document."
Black then explained the Nexus Document's relevant section that neutralizes the IHRA, which states:
What Is Not Antisemitic?
1. As a general rule, criticism of Zionism and Israel, opposition to Israel's policies, or nonviolent political action directed at the State of Israel and/or its policies should not, as such, be deemed antisemitic.
2. Even contentious, strident, or harsh criticism of Israel for its policies and actions, including those that led to the creation of Israel, is not per se illegitimate or antisemitic.
3. Opposition to Zionism and/or Israel does not necessarily reflect specific anti-Jewish animus nor purposefully lead to antisemitic behaviors and conditions. (For example, someone might oppose the principle of nationalism or ethnonationalist ideology. Similarly, someone's personal or national experience may have been adversely affected by the creation of the State of Israel. These motivations or attitudes towards Israel and/or Zionism do not necessarily constitute antisemitic behavior.)
4. Paying disproportionate attention to Israel and treating Israel differently than other countries is not prima facie proof of antisemitism. (There are numerous reasons for devoting special attention to Israel and treating Israel differently, e.g., some people care about Israel more; others may pay more attention because Israel has a special relationship with the United States and receives $4 billion in American aid).
Black said, "Hence some could say this White House strategy is a big win and a big loss at the same time, as it gets the Nexus Document into the room with more or less equal standing to the IHRA. Others who are knowledgeable say it is just a way for the Biden Administration to include its progressive wing with welcoming text, but nonetheless adhere to the better policy, which is IHRA." The author pointedly added, "Whichever policy one argues is best, all such policy stances are declared as no more than mere talk by a four-paragraph introductory and cautionary statement prominently labeled 'Disclaimer.' That White House Disclaimer opens with these words: 'The U.S National Strategy to Counter Antisemitism does not supersede, modify, or direct an interpretation of any existing federal, state, or local statute, regulation, or policy. It does not constitute binding guidance for the public, states, localities, or Federal agencies and therefore does not require compliance with the principles described herein.'"
"So if none of it is binding, one may ask, what was this exercise all about?" Black concluded.
Topic tags:
Jewish issues Antisemitism White House Democrats Joseph Biden politics human rights